Anthony Davis Shines as Lakers Defeat Warriors in NBA Game 1 Showdown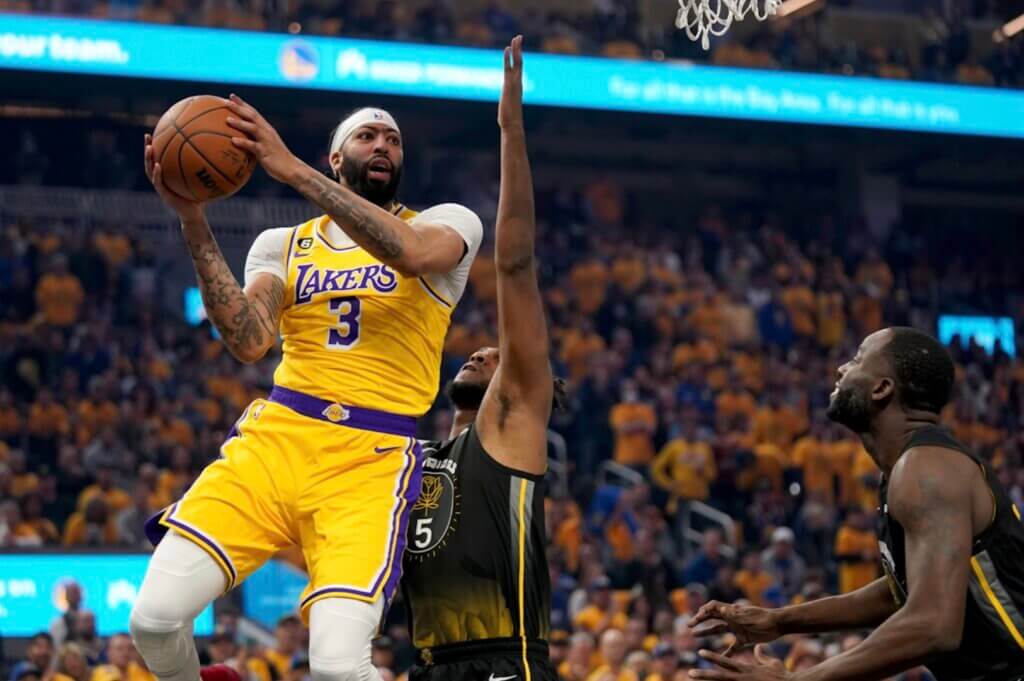 Anthony Davis Dominates the Court in Lakers' Thrilling Game 1 Victory over Warriors
The NBA playoffs are off to a thrilling start as the Lakers, fueled by an incredible performance by Anthony Davis, defeated the Golden State Warriors in a nail-biting Game 1 at the Chase Center, 117-112. Despite the Warriors' impressive efforts and Klay Thompson's early dominance, the Lakers' fierce defense and Davis' incredible 30-point, 23-rebound game were ultimately too much for the Warriors to handle.
Early on, the Warriors seemed to be in control, with Klay Thompson scoring 10 points and leading the team to a 21-17 lead. However, the Lakers soon found their stride, putting the ball in Davis' hands, who contributed 14 points to the Lakers' score. Stephen Curry put up a fight, scoring 10 points for the Warriors, but the Lakers ultimately took the lead, 31-29.
As the game progressed, the Lakers' defense tightened up, led by Dennis Schroder's relentless effort against Stephen Curry. Anthony Davis continued to dominate on the offensive end, putting the Lakers ahead 48-44. But it was Jordan Poole's hot hand that brought the Warriors back, sinking three consecutive 3-pointers and giving the Warriors a 56-53 lead. LeBron James and Schroder retaliated by repeatedly attacking Poole and taking advantage of free throws, allowing the Lakers to enter halftime with a 65-64 lead.
In the third quarter, the Lakers' defense remained strong, and a combined 16 points from D'Angelo Russell and Austin Reaves helped spark a 21-12 Lakers run, resulting in an 86-76 lead. The Lakers improved their 3-point shooting in the third quarter, while the Warriors struggled to make shots against the Lakers' intense defense.
Heading into the fourth quarter, the Warriors attempted a comeback, fueled by the dynamic duo of Poole and Curry. However, critical plays by Austin Reaves and LeBron James allowed the Lakers to respond with an 11-3 run, pushing their lead to 14 points, 112-98. The Warriors fought back with a 14-0 run, tying the game at 112-112, but it wasn't enough. In the final minutes, Russell and James added crucial points, and the Lakers emerged victorious, 117-112.
Game 1 showcased both teams' strengths and weaknesses, with the Lakers dominating inside the paint and the Warriors excelling from beyond the arc. The Lakers' interior dominance and ability to draw fouls proved to be the difference-maker in this matchup. With Game 2 scheduled for Thursday night, the Warriors will need to find a way to counter the Lakers' size and defensive prowess if they hope to even the series.
Notable Performances:
Anthony Davis' outstanding game included 30 points on 11/17 shooting, 23 rebounds, and 5 assists, as well as 4 blocks.
LeBron James, although less efficient with his shooting, contributed 22 points, 11 rebounds, 5 assists, and 3 blocks to the Lakers' win.
D'Angelo Russell and Dennis Schroder both put up impressive performances, each scoring 19 points and giving the Lakers' backcourt a significant boost.
Kevon Looney's monstrous game included 10 points, 5 assists, and 23 rebounds, setting a new career-high and marking his fourth game with 20+ rebounds in this year's playoffs.
Jordan Poole showcased his potential with a playoff-best performance, scoring 21 points, hitting 6/11