Kyrie Irving and Nike Part Ways, The End of the Kyrie Signature shoes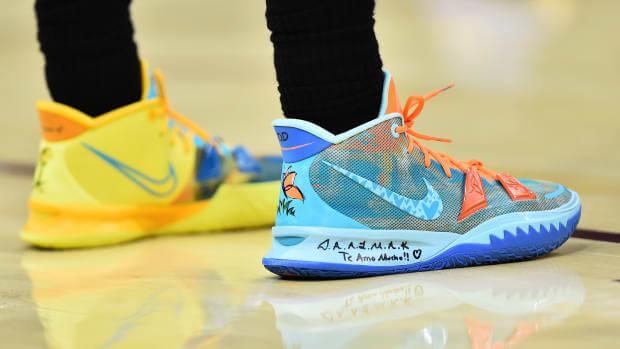 At the heart of a media storm since his promotion of an anti-Semitic film, Kyrie Irving had been sidelined from his NBA club Brooklyn Nets. The equipment manufacturer Nike announced Friday, November 4, to suspend its partnership with the basketball player.
In a statement released on Friday, Nike said: "We have communicated our concerns about this matter to Mr. Irving." The company has also decided to withdraw all its products associated with Irving's signature.
The decision came after the publication of an article by the New York Times in which it was revealed that Kyrie Irving promoted a movie on Twitter in August that included anti-Semitic content. According to the newspaper, this was done without informing his employer or teammates at the Boston Celtics - where he played before being traded to Brooklyn - or his agents at Roc Nation Sports (CAA).
The film titled 'The 21st Amendment' was made by Andrew Marcus and Dan Kleinman who were also behind controversial documentaries such as 'Hating Breitbart' (2012) and 'Occupy Unmasked' (2013).
"At Nike, we believe there is no place for hate speech and we condemn all forms of anti-Semitism," the company said in a statement. "To that end, we have made the decision to suspend our collaboration with Kyrie Irving, effective immediately," Nike continued, without specifying until when, or if this signals a breakup. In the meantime, "the commercial launch of the Kyrie 8 shoe", developed with the player, "will not take place", as was planned this month, added the brand with the comma.
Nike said it was "deeply saddened and disappointed by this situation and its impact on everyone."