Remembering Kareem Abdul-Jabbar
Reflect on the incredible legacy of basketball legend Kareem Abdul-Jabbar. From his record-breaking achievements to his advocacy for social justice, his impact on and off the court remains legendary. Join us as we honor and remember the remarkable career of Kareem Abdul-Jabbar.
In this article, we take a moment to reflect on the incredible legacy left behind by the legendary basketball player, Kareem Abdul-Jabbar. Known for his unstoppable skyhook and graceful moves on the court, Abdul-Jabbar's impact on the sport extends far beyond the game itself. From his record-breaking achievements to his tireless advocacy for social justice, his name remains synonymous with greatness both on and off the court. Join us as we honor and remember the remarkable career of Kareem Abdul-Jabbar.
Early Life and Education
Birth and Childhood
Kareem Abdul-Jabbar, originally known as Ferdinand Lewis Alcindor Jr., was born on April 16, 1947, in New York City. Growing up in the tough neighborhood of Harlem, Kareem faced various challenges that shaped his character and determination. However, his passion for basketball began to emerge at a young age, foreshadowing the incredible career that lay ahead.
High School Career
Kareem's exceptional basketball skills quickly caught the attention of coaches and scouts during his high school years at Power Memorial Academy in New York City. Standing at an astonishing 7 feet and 2 inches tall, he towered over his opponents, dominating the game with his unmatched athleticism and scoring ability. Kareem led his team to an unprecedented 71-game winning streak and secured three consecutive New York City championships.
College Career
Unable to resist Kareem's undeniable talent, legendary coach John Wooden recruited him to play for the UCLA Bruins. During his college career from 1966 to 1969, Kareem's prowess on the court was unparalleled. He revolutionized the game with his unstoppable skyhook shot, which became his signature move. Kareem's impact on UCLA was monumental, leading them to an amazing 88 straight wins and three NCAA championships. His college career undoubtedly solidified him as one of the greatest players in basketball history.
NBA Career
Draft and Rookie Season
After an extraordinary college career, Kareem declared for the 1969 NBA Draft and was selected as the first overall pick by the Milwaukee Bucks. In his rookie season, he wasted no time making his mark on the league, averaging an impressive 28.8 points and 14.5 rebounds per game. Kareem was crowned NBA Rookie of the Year and quickly established himself as a force to be reckoned with.
Dominating the League
Kareem's dominance continued throughout his NBA career, as he consistently showcased his unparalleled skills on both ends of the court. He became renowned for his scoring prowess, often leading the league in points per game. Kareem's height and agility allowed him to excel in the paint, utilizing his signature skyhook shot to score at will. Defenses struggled to contain his unmatched offensive repertoire and his ability to impact the game at all levels.
Championship Success
Kareem's contributions to the game were rewarded with numerous championships. During his time with the Milwaukee Bucks, he led the team to their first NBA championship in the 1970-1971 season. Later, after joining the Los Angeles Lakers, Kareem added five more championships to his collection, including a remarkable three-peat from 1982 to 1985. His ability to perform under pressure and lead his teams to victory solidified his status as one of the greatest players in NBA history.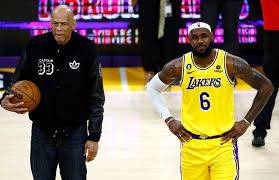 Playing Style and Skills
Scoring Prowess
Kareem's scoring ability was unmatched, both in terms of quantity and quality. Throughout his career, he became the NBA's all-time leading scorer, amassing an incredible 38,387 points. His remarkable consistency and footwork in the post allowed him to score with ease, often leaving defenders perplexed and helpless. Kareem's scoring prowess was a spectacle to behold, making him a true offensive juggernaut.
Dominant Post Moves
One of the key components of Kareem's offensive arsenal was his dominant post moves. His skyhook shot, in particular, became the stuff of legends. With remarkable precision and a release point that defenders found nearly impossible to block, Kareem's skyhook became virtually unstoppable. This signature move became a symbol of his greatness and a testament to his technical mastery of the game.
Defensive Ability
While Kareem was celebrated for his offensive contributions, his defensive prowess should not be overlooked. Standing at 7 feet 2 inches with an impressive wingspan, he possessed the physical tools to disrupt shots and protect the rim. Kareem's shot-blocking ability and his overall defensive presence earned him All-Defensive Team honors on multiple occasions. His commitment to excellence on both ends of the court further solidified his status as a complete and versatile player.
Off-Court Impact
Activism and Social Justice
Beyond his achievements on the basketball court, Kareem Abdul-Jabbar used his platform to advocate for social justice and equality. He was an outspoken critic of racial inequality and discrimination, using his influence to shed light on important issues faced by marginalized communities. Kareem's activism resonated with people around the world, inspiring others to stand up and fight for justice.
Writing and Philanthropy
Kareem is not only a leading figure in basketball but also a highly acclaimed author. With several books published, including his autobiography, Kareem has showcased his intellectual prowess and ability to articulate his thoughts and experiences. Additionally, his philanthropic efforts have made a significant impact, as he has dedicated himself to various charities and initiatives aimed at improving education and empowering young people.
Cultural Influence
Kareem Abdul-Jabbar's impact extended well beyond the basketball court. His cultural influence and recognition as a sports icon have transcended generations. His grace, athleticism, and determination have left an indelible mark on the game, inspiring aspiring young players around the world to follow in his footsteps.
Record-Breaking Achievements
All-time Leading Scorer
Kareem's longevity and consistency allowed him to surpass the previous record for all-time leading scorer, held by Wilt Chamberlain, cementing his legacy as one of the greatest to ever play the game. His ability to score at an elite level throughout his career stands as a testament to his skill, work ethic, and dedication to the game.
Most Valuable Player Awards
Kareem Abdul-Jabbar received numerous accolades throughout his career, including a record-breaking six NBA Most Valuable Player (MVP) awards. This recognition reflects the impact he had on the game, consistently dominating his opponents and leading his teams to success. Kareem's MVP awards solidify his status as one of the most influential and impactful players in NBA history.
All-NBA and All-Defensive Teams
Kareem's exceptional skills and consistent performances earned him a place on the All-NBA Team a staggering fifteen times and the All-Defensive Team eleven times. These honors further exemplify his unparalleled abilities and highlight his impact on both ends of the court. Kareem's presence on these prestigious teams, year after year, cements his status as a bonafide basketball legend.
Legacy and Influence
Inspiring Future Generations
Kareem Abdul-Jabbar's impact stretches far beyond his playing years. His skill, dedication, and success serve as a powerful source of inspiration for generations of basketball players. Countless aspiring athletes have looked up to Kareem, drawing motivation from his work ethic, integrity, and passion for the game. He continues to be a beacon of inspiration for young athletes around the world.
Impact on Big Men in NBA
Kareem's dominance as a big man revolutionized the game and redefined the role of centers in the NBA. His success and versatility showcased the integral value that big men could bring to their teams, inspiring a new generation of centers and power forwards to develop similar skill sets. Kareem's legacy can be seen in the way the game is played today, with big men often emulating his moves and playing style.
Recognition and Honors
Kareem Abdul-Jabbar's contributions to the game of basketball have not gone unnoticed. He has received numerous accolades and honors, including induction into the Naismith Memorial Basketball Hall of Fame. Additionally, his jersey numbers have been retired by both the Milwaukee Bucks and the Los Angeles Lakers. These tributes stand as a testament to his greatness and the impact he has had on the sport.
Post-NBA Career
Media Work and Broadcasting
Following his retirement from professional basketball, Kareem Abdul-Jabbar transitioned to media work and broadcasting. He became a respected sports commentator and analyst, providing insightful analysis and commentary on the game. His presence in the media further solidifies his status as a basketball icon and allows him to share his wealth of knowledge and experience with fans around the world.
Coaching and Mentoring
In addition to his media work, Kareem has also embraced the role of coach and mentor. He has worked with various NBA teams and players, passing on his knowledge and expertise to the next generation. Kareem's commitment to giving back and helping others succeed is a testament to his character and the impact he wishes to have beyond his playing days.
Personal Life
While Kareem Abdul-Jabbar's professional achievements are widely celebrated, his personal life is equally noteworthy. He has dedicated himself to being a loving father and a pillar of his community. Kareem's humility and grace off the court have earned him the respect and admiration of those who have had the pleasure of knowing him on a personal level.
Health Issues and Overcoming Challenges
Leukemia Diagnosis
In 2008, Kareem Abdul-Jabbar revealed that he had been diagnosed with a rare form of leukemia. This shocking news brought about an outpouring of support and prayers from fans worldwide. Kareem's diagnosis opened up a new chapter in his life, one that would test his resilience and determination to overcome any challenge that came his way.
Transplant and Recovery
Undergoing a successful stem cell transplant in 2009, Kareem embarked on a rigorous journey toward recovery. His strength and determination were pivotal in his successful battle against the disease. Kareem's story serves as a reminder of the power of the human spirit and the importance of perseverance in times of adversity.
Advocacy for Health Issues
Following his own health scare, Kareem became an advocate for raising awareness about health issues and the importance of regular check-ups and early detection. His openness about his battle with leukemia has encouraged others to prioritize their health and seek medical attention when needed. Kareem's advocacy has undoubtedly made a significant impact on countless lives.
Remembering a Legend
Tributes and Commemorations
Kareem Abdul-Jabbar's impact on the game of basketball and the world at large has not gone unnoticed. Numerous tributes and commemorations have been held to honor his remarkable career and contributions. From jersey retirements to statues and murals, these tributes stand as a lasting testament to his enduring legacy.
Impact on the Game of Basketball
Kareem Abdul-Jabbar's influence on the game of basketball cannot be overstated. His unmatched skills, record-breaking achievements, and cultural impact have forever left an indelible mark on the sport. Kareem's legacy lives on in the countless players who have emulated his style and continue to strive for greatness.
Enduring Legacy
As one of the greatest basketball players of all time, Kareem Abdul-Jabbar's legacy will continue to inspire generations to come. His impact both on and off the court serves as a reminder of the transformative power of sports and the ability of individuals to create lasting change. Kareem's enduring legacy is a testament to his unparalleled greatness and the mark he has left on the world of basketball.
Conclusion
Kareem Abdul-Jabbar's journey from a young basketball prodigy to an enduring legend is nothing short of extraordinary. By dominating the game with his scoring prowess, defensive prowess, and unique style of play, Kareem revolutionized the sport and inspired countless players who followed in his footsteps. Off the court, he used his voice and platform to fight for social justice, advocate for health issues, and make a positive impact on society. Kareem's impact will forever be felt in the world of basketball and beyond, leaving an enduring legacy that will inspire generations to come.