Unleashing Luka Doncic: A Phenomenon on the Court
Unleashing Luka Doncic: Witness the phenomenal skills and talent of Luka Doncic as he takes the NBA by storm. Buckle up for an extraordinary display of basketball brilliance!
Get ready to witness the sensational skills and remarkable talent of Luka Doncic on the basketball court. With an impressive track record and a jaw-dropping style of play, this young prodigy has taken the NBA by storm. From his mesmerizing dribbling skills to his precise shooting, Luka's ability to dominate the game is nothing short of extraordinary. It's time to buckle up and witness the phenomenon that is Luka Doncic as he showcases his brilliance on the court.
Heading 1: Early Life and Background
Subheading 1: Introduction to Luka Doncic
Luka Doncic, the Slovenian basketball prodigy, has taken the world by storm with his incredible skills and natural talent on the court. Born on February 28, 1999, in Ljubljana, Slovenia, Doncic was destined for greatness from a young age. His love for basketball was evident from the moment he picked up a ball, and his passion for the game only grew stronger over time.
Subheading 2: Early Basketball Journey
Doncic's basketball journey started in his hometown of Ljubljana, where he joined the youth academy of Union Olimpija, one of the most prestigious basketball clubs in Slovenia. Under the guidance of experienced coaches, Doncic honed his skills and developed a deep understanding of the game. His dedication and commitment to improving his craft were evident, even at a young age.
Subheading 3: Shaping His Skills
Doncic's incredible work ethic and determination to succeed allowed him to stand out among his peers. He spent hours perfecting his shooting, dribbling, and passing abilities, constantly striving to push the boundaries of his game. Doncic's willingness to learn from experienced players and coaches enabled him to develop a well-rounded skillset that would later set him apart on the global stage.
Heading 2: Rise to Stardom in Europe
Subheading 1: Introduction to European Basketball
European basketball has a rich history, and its leagues have long been considered a breeding ground for talent. Doncic grew up playing in the highly competitive Slovenian league, but it was in EuroLeague, the pinnacle of European club basketball, where he truly showcased his skills on an international platform.
Subheading 2: Doncic's Breakthrough at Real Madrid
At the age of 13, Doncic joined the prestigious youth academy of Real Madrid, one of the most successful basketball clubs in Europe. This move proved to be instrumental in his development as a player. Despite facing older and more experienced opponents, Doncic quickly made a name for himself with his mature style of play and basketball IQ beyond his years. He became a key contributor to the senior team at a remarkably young age, drawing attention from scouts and fans alike.
Subheading 3: Winning EuroLeague and Individual Accolades
Doncic's meteoric rise continued as he played an integral role in leading Real Madrid to the EuroLeague championship in 2018. His exceptional performances on the court earned him numerous individual accolades, including the EuroLeague Final Four MVP and the Euroscar European Player of the Year. Doncic's dominance in Europe solidified his status as one of the most promising talents in the game and set the stage for his transition to the NBA.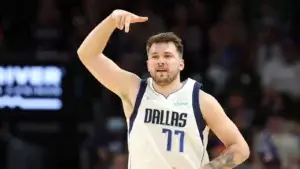 Heading 3: NBA Draft and Rookie Season
Subheading 1: Decision to Join the NBA
After conquering Europe, Doncic faced a monumental decision - whether to stay in Europe or take his talents to the NBA. With his skills, maturity, and international success, the choice seemed inevitable. In 2018, Doncic officially declared for the NBA Draft, setting the stage for the next chapter in his basketball journey.
Subheading 2: The Draft Night Drama
During the 2018 NBA Draft, Doncic's draft stock soared as he became one of the most highly sought-after prospects. The drama unfolded when the Atlanta Hawks selected him with the third overall pick but subsequently traded him to the Dallas Mavericks for Trae Young, another highly-touted prospect. This trade would prove to be a turning point for both franchises.
Subheading 3: Impressive Rookie Performance
Doncic wasted no time making an impact in the NBA. From the moment he stepped onto the court, his basketball brilliance was evident. He quickly adapted to the faster pace and physicality of the game, displaying unparalleled poise and confidence for a rookie. Doncic's all-around game was on full display as he consistently put up impressive stat lines, including multiple triple-doubles. His historic rookie campaign earned him the coveted NBA Rookie of the Year award.
Heading 4: Leadership and Playmaking Abilities
Subheading 1: Natural Basketball IQ
One of the most remarkable aspects of Doncic's game is his natural basketball IQ. He possesses an innate understanding of the game, allowing him to read defenses, make quick decisions, and exploit any weaknesses. Doncic's ability to anticipate plays and put himself in the right position on the court sets him apart as a true floor general.
Subheading 2: Unique Court Vision and Passing Skills
Doncic's court vision and passing ability are second to none. His ability to thread the needle with pinpoint passes, especially in tight spaces, is a testament to his exceptional passing skills. Doncic sees passing lanes that others may not even consider, and he has the skill to execute those passes with precision. His teammates thrive off his ability to create scoring opportunities, making him a true playmaker.
Subheading 3: Commanding Presence on the Court
Despite his young age, Doncic has an uncanny ability to take control of the game and dictate the tempo. He exudes confidence and composure, elevating the play of those around him. Doncic's assertiveness and leadership on the court have earned him the respect of his teammates and opponents alike. His ability to lead by example has transformed the Dallas Mavericks into a formidable force in the NBA.
Heading 5: Scoring Prowess
Subheading 1: Versatility in Scoring
Doncic's scoring ability is nothing short of extraordinary. He possesses an impressive arsenal of offensive moves, making him a constant scoring threat from all areas of the court. Whether it's driving to the basket, pulling up for mid-range jumpers, or draining three-pointers, Doncic can score in various ways, making him nearly impossible to defend.
Subheading 2: Craftiness and Shot Creation
What sets Doncic apart as a scorer is his craftiness and shot creation. He has an exceptional handle and a wide array of dribble moves that allow him to create space and get off his shot. Doncic's footwork is exceptional, enabling him to finish at the rim with finesse or step back for a smooth jumper. His ability to create scoring opportunities out of nothing is a testament to his immense talent.
Subheading 3: Consistent Three-Point Shooting
Doncic's ability to knock down three-pointers with consistency has made him an even more formidable offensive threat. Despite defenses keying in on his outside shot, Doncic has showcased exceptional shooting range and accuracy. His deep shooting range forces defenders to guard him closely, opening up driving lanes and creating opportunities for his teammates. Doncic's ability to stretch the floor adds an additional dimension to his already impressive offensive repertoire.
Heading 6: Clutch Performances
Subheading 1: Thriving under Pressure
Doncic thrives under pressure and embraces the opportunity to perform in crucial moments. When the game is on the line, he elevates his play to another level, displaying incredible composure and confidence. Doncic's ability to maintain his poise in high-pressure situations has resulted in numerous game-changing plays and performances.
Subheading 2: Game-Winning Shots and Moments
Doncic's clutch performances often include unforgettable game-winning shots that leave fans in awe. Whether it's a step-back three-pointer with the clock winding down or a buzzer-beating floater in traffic, Doncic has shown time and time again that he possesses the talent and mental fortitude to deliver in the clutch. These moments have solidified his status as one of the most exciting players to watch in the NBA.
Subheading 3: Impact in Overtime and Close Games
Doncic's impact goes beyond individual game-winning shots. His ability to make crucial plays and lead his team in overtime and close games is a testament to his competitiveness and desire to win. Whether it's scoring the final points or setting up his teammates for game-winning opportunities, Doncic consistently rises to the occasion and finds a way to come out on top.
Heading 7: Impact on Teammates and Franchise
Subheading 1: Energizing and Motivating Teammates
Doncic's infectious energy and passion for the game help energize his teammates, pushing them to perform at their best. His relentless work ethic and competitive nature set the standard for the entire team. Doncic's leadership by example inspires his teammates to give their all on the court, fostering a strong sense of unity and camaraderie within the Dallas Mavericks.
Subheading 2: Improving Team Cohesion
Doncic's exceptional playmaking and court vision have significantly improved the cohesion of the Dallas Mavericks as a team. His ability to find the open man and make the right play at the right time has elevated the entire team's offensive efficiency. Doncic's teammates have quickly learned to anticipate his passes, leading to seamless offensive execution and scoring opportunities.
Subheading 3: Transforming the Dallas Mavericks
Doncic's arrival in the NBA has transformed the Dallas Mavericks into a legitimate title contender. His impact on both ends of the court, combined with his ability to elevate the play of his teammates, has turned the Mavericks into a formidable force. Doncic's presence alone makes the team a threat in every game, and his drive to bring a championship to Dallas has revitalized the franchise's aspirations.
Heading 8: Accolades and Achievements
Subheading 1: NBA Rookie of the Year
Luka Doncic's exceptional rookie season in the NBA earned him the prestigious Rookie of the Year award. His consistent performances, statistical achievements, and impact on the Dallas Mavericks solidified his status as the league's top rookie. Doncic's versatility and ability to contribute in multiple facets of the game set him apart from his peers.
Subheading 2: All-Star Appearances
Doncic's incredible skillset and popularity among fans have resulted in multiple All-Star appearances early in his career. His selection as an All-Star is a testament to his impact on the game and his ability to consistently perform at an elite level. Doncic's participation in the All-Star game has allowed him to showcase his talents on a global stage and further solidify his place among the NBA's elite.
Subheading 3: Named to All-NBA Teams
Recognized for his outstanding play, Doncic has been named to All-NBA teams, further cementing his status as one of the league's top players. His versatility, leadership, and skillset have earned him widespread recognition from both fans and experts alike. Doncic's inclusion in All-NBA teams underscores his impact on the game and his ability to consistently contribute at an elite level.
Heading 9: International Presence
Subheading 1: Representing Slovenia
Luka Doncic has become a symbol of national pride for Slovenia. Representing his country on the international stage, Doncic has captivated Slovenian basketball fans with his exceptional play and unwavering commitment. He has proudly represented Slovenia in various FIBA competitions, drawing attention to the nation's rich basketball culture and promoting the sport at home.
Subheading 2: Success in FIBA Competitions
Doncic's success in FIBA competitions has further solidified his reputation as a global basketball phenomenon. He has led the Slovenian national team to impressive victories, including a historic triumph at the 2017 EuroBasket, where he played a pivotal role in securing Slovenia's first-ever gold medal. Doncic's performances in international competitions have showcased his versatility and ability to excel on the world stage.
Subheading 3: Love and Support from European Fans
Doncic's rise to stardom has captured the hearts of European basketball fans. His performances in both Europe and the NBA have garnered admiration and support from fans across the continent. Doncic's impact on the game, combined with his humble and down-to-earth demeanor, has made him a beloved figure in European basketball. His success has inspired a new generation of aspiring players and elevated the profile of European basketball on the global stage.
Heading 10: Future Outlook and Legacy
Subheading 1: Potential to Become an All-Time Great
At just 22 years old, Luka Doncic has already achieved remarkable success in his basketball career. His potential to become an all-time great is unquestionable. Doncic's unique skillset, leadership, and passion for the game provide the foundation for a long and illustrious career. With each passing game, he continues to defy expectations and reach new heights, leaving fans in awe and anticipation of what the future holds.
Subheading 2: Impact on International Players in the NBA
Doncic's impact reaches beyond his individual achievements. He has opened doors and broken barriers for international players in the NBA. His success and popularity have helped dispel stereotypes and showcase the immense talent that exists worldwide. Doncic has become an inspiration for aspiring international players, showcasing the global reach and influence of the game of basketball.
Subheading 3: Leaving a Lasting Mark on the Game
As Luka Doncic's career progresses, his impact on the game will become part of basketball lore. His captivating style of play, remarkable performances, and natural leadership have already left an indelible mark on the basketball world. Doncic's legacy will be remembered for generations to come, as he has redefined what is possible for a young player entering the NBA. His story serves as a reminder of the transformative power of basketball and the limitless potential of those who dare to dream big.
In conclusion, Luka Doncic's journey from a young Slovenian basketball prodigy to a global phenomenon has been nothing short of extraordinary. His early life and background shaped him into the player he is today, while his rise to stardom in Europe showcased his immense talent and potential. Doncic's NBA career has been marked by mesmerizing performances, clutch moments, and numerous accolades. His impact on teammates, franchises, and international players in the NBA has been nothing short of transformative. As Doncic's legacy continues to unfold, his potential to become an all-time great becomes increasingly apparent. His story and success have not only captivated fans but also inspired a new generation of basketball players and elevated the global profile of the game. Luka Doncic is a once-in-a-generation talent, and his imprint on the game will be felt for years to come.