Bilal Coulibaly's Stellar Performance Against the Hornets: A Rising NBA Star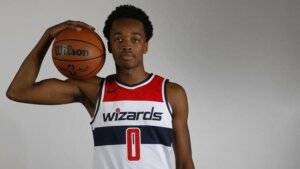 The NBA preseason is a time for players to showcase their skills, make a statement, and secure their spot in the regular season lineup. One player who has undoubtedly made his mark is Bilal Coulibaly. In a recent face-off between the Washington Wizards and the Charlotte Hornets, Coulibaly's performance was nothing short of spectacular.
A Game to Remember for Coulibaly
The Wizards managed to clinch a victory with a 98-92 score against the Hornets, a game that was marked by the aftermath of the Miles Bridges affair. Despite a rocky start, trailing 14-2 in the initial minutes, the Wizards' bench players turned the tide with an 18-2 run in the fourth quarter. This shift in momentum saw the Wizards take the lead and eventually secure the win, thanks in large part to former Warrior Ryan Rollins.
However, the spotlight was undeniably on Bilal Coulibaly. With a commendable stat line of 12 points, 5 rebounds, 4 interceptions, and a block in 28 minutes, he was the player who spent the most time on the court. His defensive prowess was evident, especially with a jaw-dropping block against Bryce McGowens' "poster dunk" attempt. Offensively, Coulibaly played with confidence, taking risks and showcasing his evolving skill set.
Other Notable Performances
While Coulibaly's performance was the highlight, other players also made significant contributions. Frank Ntilikina, another French player on the Hornets, showcased an all-around game with 5 points, 4 assists, 3 rebounds, and 3 interceptions. Despite his shooting struggles, it was refreshing to see Ntilikina take on a more assertive role.
For the Wizards, Kyle Kuzma and Jordan Poole contributed with 19 and 16 points, respectively. The team's overall performance was balanced, with multiple players stepping up and contributing in various facets of the game.
Looking Ahead
As the NBA season approaches, performances like these in the preseason set the tone for what fans can expect. Bilal Coulibaly, with his impressive skills and growing confidence, is undoubtedly a player to watch. His ability to impact the game on both ends of the floor makes him a valuable asset for the Wizards.
For the Hornets, while the loss was a setback, there were positive takeaways. The team's resilience and ability to bounce back after a slow start show promise for the upcoming season.
---
In conclusion, the NBA preseason offers a glimpse into the potential of teams and players. Bilal Coulibaly's standout performance against the Hornets is a testament to his growth and potential in the league. As the regular season unfolds, fans of Basketball Evolution can look forward to more in-depth analysis and updates on the NBA's rising stars and top contenders.