Hayes and Coulibaly Shine Bright, While Zion Struggles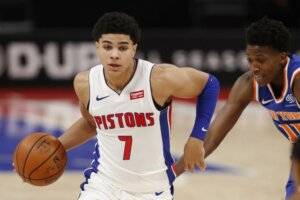 The NBA preseason is in full swing, offering a sneak peek into the potential of teams and players for the upcoming regular season. From standout performances to surprising struggles, here's a comprehensive look at some of the most notable moments.
Hayes and Coulibaly: The French Connection
Killian Hayes has been rejuvenated under the guidance of Monty Williams with the Pistons. In a nail-biting match against the Oklahoma City Thunder, which Detroit clinched 128-125, Hayes showcased his prowess with 16 points, 3 assists, and 2 rebounds in 26 minutes. His teammates, James Wiseman and Stanley Umude, also delivered impressive performances, contributing to the team's victory.
Bilal Coulibaly continues to make waves with the Washington Wizards. Following a commendable defensive display in his debut, Coulibaly further solidified his position with 12 points, 5 rebounds, and a notable block against Bryce McGowens in the Wizards' 98-92 win over the Charlotte Hornets.
Zion Williamson's Underwhelming Display
The New Orleans Pelicans faced a tough defeat against the Houston Rockets, losing 87-120. The spotlight, however, was on Zion Williamson, who seemed out of sync. With a mere 2/3 shooting in 22 minutes, Zion's lack of involvement was evident. On the other hand, the Rockets' young talents, including Amen Thompson, showcased their potential, hinting at an exciting season ahead.
Phoenix Suns: A Force to Reckon With
Even without Bradley Beal, the Phoenix Suns displayed their offensive might against the Portland Trail Blazers, winning 122-111. The dynamic duo of Kevin Durant and Devin Booker combined for 34 points in just 21 minutes, hinting at the offensive juggernaut the Suns might become this season.
Other Notable Performances
Nikola Jokic reminded everyone of his dominance in the NBA. Despite the Denver Nuggets' loss to the Chicago Bulls after two overtimes, Jokic's performance was stellar with 17 points, 6 rebounds, and 4 assists in just 18 minutes.
Trae Young took charge for the Atlanta Hawks in their close win against the Memphis Grizzlies. Scoring 20 points in 18 minutes, Young's leadership and scoring ability were on full display.
The Brooklyn Nets dominated Ra'Anana with a 135-103 victory. Ben Simmons showcased his all-around game with 6 points, 9 assists, and 6 rebounds in 22 minutes, hinting at a promising season ahead.
---
In conclusion, the NBA preseason has been a rollercoaster of emotions, with some players rising to the occasion while others are still finding their rhythm. As we gear up for the regular season, fans of Basketball Evolution can eagerly anticipate more thrilling games, standout performances, and in-depth analysis. Stay tuned!