Incredible First Game of Playoff: Nets vs Celtics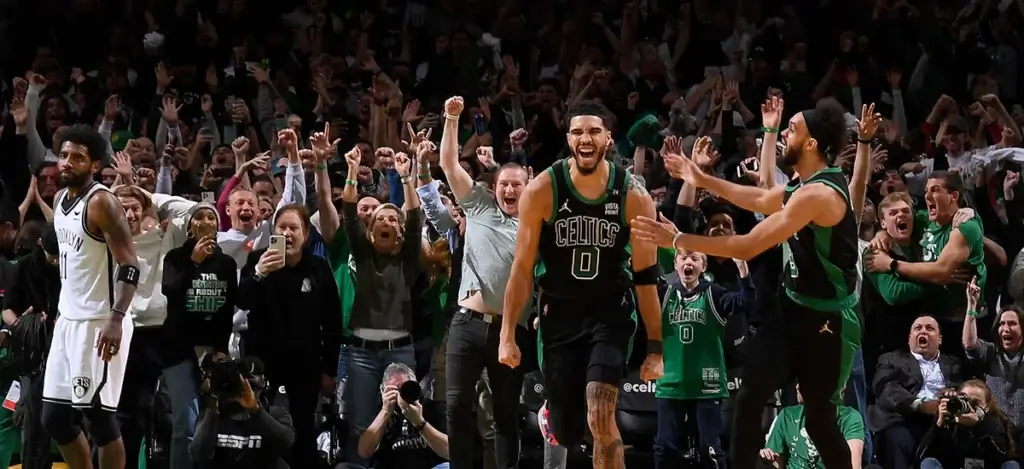 An emblem of sporting euphoria unfolded on the basketball court as two titans of the Eastern Conference, the Boston Celtics and the Brooklyn Nets, clashed in a memorable opening game of the playoffs on the 18th of April, 2022. As the shimmering echoes of the referee's whistle pervaded the air, the resounding roar of the spectators painted an awe-inspiring prelude to the spectacle that was about to unravel.
A fierce battle for dominance unfurled between the title contenders, their every move under the merciless scrutiny of the basketball gods. The match ebbed and flowed with a crescendo of suspense, the metaphorical see-saw bearing testament to the electrifying nature of this opening bout. Every attack, every defense, every shot attempted bore the weight of millions of expectant hopes, making for a spectacle of unprecedented proportions.
The spotlight shone bright on the Celtics' Jayson Tatum, his nerves of steel driving him to defy the crunching pressure of the moment. In a stunning feat of athleticism, he sent the ball swishing through the net for a last-second layup, sealing a pulsating 115-114 victory for the Celtics.
The hero of the hour later recounted the moment of climax: "We all thought Smart was gonna shoot it … When he took that dribble, we made eye contact, he made a great pass and I just had to make a layup."
In spite of the loss, Brooklyn's Kyrie Irving's commendable 39-point performance served as a silver lining, his spellbinding skills weaving a tapestry of exquisite offense. Despite the bitter taste of defeat, Nets coach Steve Nash highlighted the need to glean lessons from the match, stating, "They were very physical, they put their hands on him a lot and certainly clogged up space." His intention to analyze the footage without "overreacting" showcased his strategic approach towards the upcoming challenges.
An ardent fan summarized the match with an eloquence befitting a match of such stature, "On offense, Irving produced some magic, the Celtics found themselves in a state and with a quick 13-0 Brooklyn returned to the front. Boston got back on track thanks to the plays of Smart and Brown. The end is a Hollywood thriller. Irving with an amazing three brings the guests back to +3. Brown closed in on the Celtics and with the last breath Smart invents a decisive pass that Tatum turns into a layup on the siren that gives an incredible success to the home team."
Indeed, the first game of the playoff between the Nets and Celtics will be etched in the annals of basketball history, not merely as a game, but as a testament to the unyielding spirit of competition, the exhilarating thrill of the sport, and the unspoken poetry that breathes life into every dribble, every pass, and every shot.