Incredible First Game of Playoff: Nets vs Celtics
Boston guard Jaylen Brown drove the baseline on Brooklyn center DeAndre Jordan, and made the go-ahead layup as the Celtics took a 115-114 lead with 10.8 seconds remaining. After Irving turned the ball over on a traveling call, Jayson Tatum scored with 8.3 seconds left to give Boston a 117-114 lead.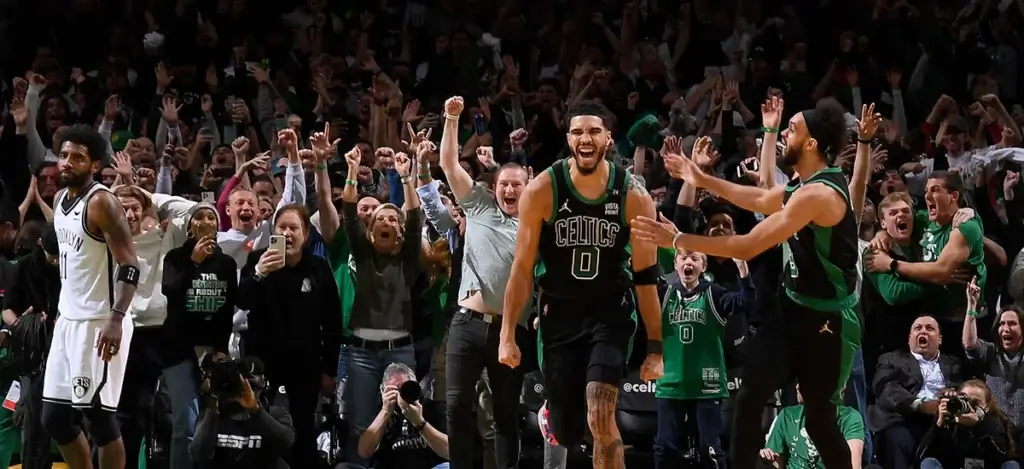 The Nets and Celtics are both title contenders, and yesterday was their first matchup of the season. In one of the most entertaining games of the 2022 playoffs, the Celtics won 115-114 with a last-second layup by Jayson Tatum. It was a back-and-forth game but Boston's Kyrie Irving, facing his former team, was able to lead all scorers with 39 points during a losing effort for Brooklyn.
Jayson Tatum said on the final play: "We all thought Smart was gonna shoot it … When he took that dribble, we made eye contact, he made a great pass and I just had to make a layup."
"They were very physical, they put their hands on him a lot and certainly clogged up space," notes Steve Nash, who says he wants to take the time to analyze the footage, without "overreacting," to help his player respond in the second game.
Some statistics:
Boston: Tatum 31 (6/11, 3/7, 10/12 tl), Brown 23, Horford, Smart 20. Rebounds : Horford 15. Passes : Tatum 8.
Brooklyn: Irving 39 (6/10, 6/10, 9/9 tl), Durant 23, Dragic 14. Rebounds : Claxton 8. Passes : Curry, Irving 6.
A fan described the match:
"On offense, Irving produced some magic, the Celtics found themselves in a state and with a quick 13-0 Brooklyn returned to the front. Boston got back on track thanks to the plays of Smart and Brown. The end is a Hollywood thriller. Irving with an amazing three brings the guests back to +3. Brown closed in on the Celtics and with the last breath Smart invents a decisive pass that Tatum turns into a layup on the siren that gives an incredible success to the home team."