LeBron James Makes NBA History, Surpasses Kareem Abdul-Jabbar as Career Scoring Champion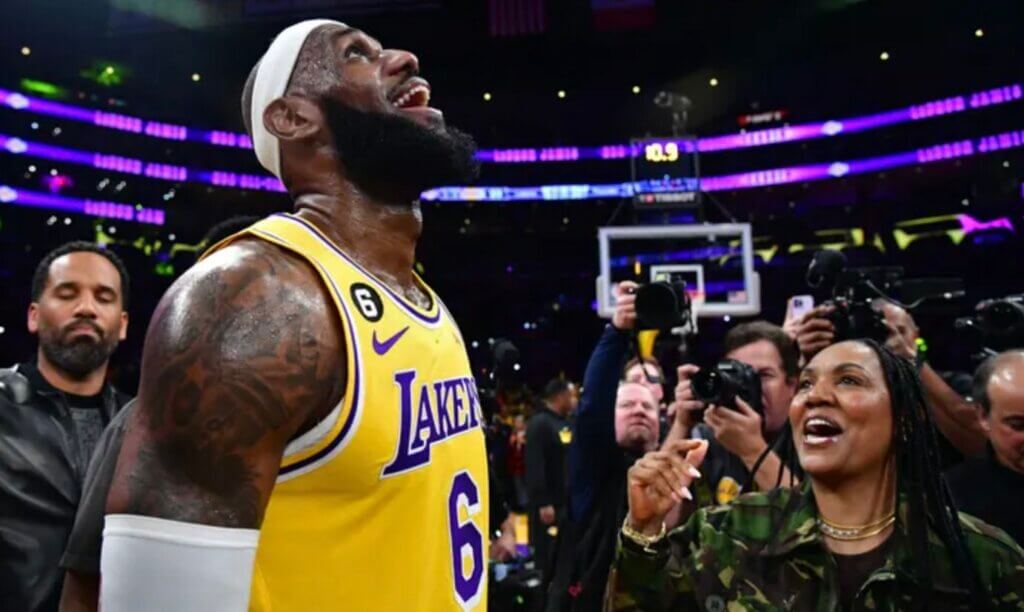 LeBron James has once again cemented his place in the history books of the NBA as he surpasses Kareem Abdul-Jabbar to become the new all-time scoring champion. It was a moment that was 40 years in the making, and it was achieved in true LeBron fashion.
Entering the Lakers vs. Thunder game on Tuesday, the question was whether LeBron could score the 36 points he needed to finally break Kareem Abdul-Jabbar's record. And in a remarkable feat, James achieved the feat in less than a full game.
With 10.9 seconds left in the third quarter at Crypto.com Arena, James sank a 21-foot turnaround, giving him the necessary 36 points for the game and a total of 38,388 for his career - more than any other player in NBA history.
The achievement is a testament to LeBron's sustained excellence over 20 seasons in the league. With double-figure points in all but eight career games and an average of at least 25 points per game in each of the 19 seasons since his rookie campaign in 2003-04, James has consistently chipped away at Abdul-Jabbar's record.
"Congratulations to LeBron on breaking one of the most hallowed records in all of sports by becoming the NBA's all-time scoring leader," NBA commissioner Adam Silver said in a statement. "It's a towering achievement that speaks to his sustained excellence over 20 seasons in the league. And quite amazingly, LeBron continues to play at an elite level, and his basketball history is still being written."
LeBron joins a lineage of record holders that started with Joe Fulks and George Mikan, was extended by Dolph Schayes, Bob Pettit, and Wilt Chamberlain, and seemingly put out of reach by Abdul-Jabbar. But James, with his consistent, high-level excellence and historic longevity, has proven that anything is possible.
Kareem Abdul-Jabbar had this to say about LeBron's achievement: "LeBron's career is one of someone who planned to dominate this game. He had the size and talent to step right into the NBA, and he immediately had his effect. It's gone on for 20 years now. He has that indefinable essence that you call leadership, that people want to get behind him."
In his own words, LeBron says that the achievement is humbling, and he is grateful to be a part of something he has always dreamed about. "To the NBA... I thank you guys so much for letting me be part of something I've always dreamed about. I would never, ever in a million years dreamed it's better than what it is tonight."
LeBron James' record-breaking feat is a testament to his unwavering commitment to excellence and his place as one of the greatest players in the history of the game. It's a moment that will be remembered for generations to come, and it's a proud moment for basketball fans everywhere.