Shaq's Business Ventures: A Look at Companies Owned by Shaq
Discover the diverse range of companies owned by Shaq, from restaurants and real estate to media and technology. Explore his impressive business ventures now!
Have you ever wondered about the business savvy behind one of basketball's most iconic figures? Look no further than Shaq, as we take a closer look at the diverse range of companies that he owns. From real estate and restaurants to technology and endorsements, Shaq's empire extends well beyond the basketball court. Get ready to be impressed by the impressive array of businesses that this friendly giant has put his name to.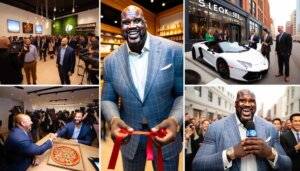 Shaq's Business Ventures
Introduction to Shaq's business ventures
When you think of Shaquille O'Neal, the first thing that comes to mind is his incredible basketball career. However, Shaq's success goes far beyond his performance on the court. Over the years, Shaq has ventured into various industries and built a diverse portfolio of businesses. From restaurants to real estate, media to technology, fitness to clothing, and even philanthropy, Shaq has left his mark in multiple sectors. In this article, we will take a comprehensive look at some of the noteworthy companies owned by the iconic Shaq.
1. Restaurant Chains
Shaquille's
As a true food lover, Shaq couldn't resist the allure of the restaurant industry. He launched his own restaurant chain, aptly named Shaquille's. Known for its delicious Southern-inspired cuisine and warm hospitality, Shaquille's has become a popular destination for food enthusiasts across the country. With an emphasis on quality ingredients and exquisite flavors, Shaquille's offers a unique dining experience that showcases Shaq's passion for both great food and excellent service.
Big Chicken
If you're a crispy chicken aficionado, then Shaq's Big Chicken is the place for you. Located in Las Vegas, this mouthwatering chicken joint delivers a menu of delectable fried chicken, flavorful sides, and tasty desserts. Inspired by his love for this comfort food classic, Shaq's Big Chicken has garnered praise for its delightful recipes and cozy atmosphere. Whether you're a local or a visitor to Sin City, it's a must-visit spot for all chicken enthusiasts.
Auntie Anne's
In addition to his own restaurant chains, Shaq has also partnered with popular pretzel franchise Auntie Anne's. With his charismatic personality and love for the brand's famous pretzels, Shaq became an official brand ambassador for Auntie Anne's. His collaboration with the pretzel powerhouse has helped bring more attention and excitement to the delicious treats offered by Auntie Anne's, making it a favorite snack option for pretzel lovers everywhere.
Papa John's
Not only is Shaq an iconic figure in the world of sports, but he also has a knack for making smart business moves. In 2019, he became the first African-American member of the Papa John's board of directors. This strategic partnership allows Shaq to have a significant influence on the company's direction while also promoting diversity and inclusion within the corporate world. Shaq's involvement with Papa John's marks his commitment to fostering positive change and serving as a role model in various fields.
2. Real Estate Investments
Residential Properties
When it comes to real estate, Shaq has always had an eye for lucrative investments. He has made substantial investments in residential properties over the years, building an impressive portfolio of luxury homes and properties. From his stunning mansion in Orlando, affectionately called "Shaq-apulco," to his breathtaking lakeside estate in Georgia, Shaq's residential real estate ventures showcase his discerning taste and keen business acumen.
Commercial Properties
In addition to residential properties, Shaq has expanded his real estate empire into the realm of commercial properties. He has invested in various shopping centers, office buildings, and other commercial spaces, solidifying his status as a savvy entrepreneur in the real estate industry. Shaq's commercial properties not only generate significant revenue but also contribute to the growth and development of local economies, creating opportunities for businesses and communities to thrive.
Luxury Hotels
Shaquille O'Neal doesn't shy away from aiming high, and his foray into the world of luxury hotels is a prime example of his ambition. As the owner of multiple upscale hotels, Shaq offers guests a taste of opulence and unmatched hospitality. His luxury hotels provide a lavish retreat for travelers seeking a superior experience, complete with world-class amenities and exceptional service. With his unique vision and attention to detail, Shaq has redefined the concept of luxury accommodation.
3. Media and Entertainment
Shaqtin' a Fool
Beyond his undeniable basketball prowess, Shaq's larger-than-life personality has made him a beloved figure in the media and entertainment industry. One of his notable ventures is the popular television segment, "Shaqtin' a Fool." This entertaining feature, which airs during NBA broadcasts, showcases humorous and embarrassing moments from NBA players' on-court blunders. Shaqtin' a Fool has become a fan-favorite, providing endless laughter to sports enthusiasts across the globe.
Inside the NBA
Another media endeavor that has further solidified Shaq's presence on television is his role as an analyst on the award-winning show, "Inside the NBA." Alongside fellow basketball legends, Shaq provides insightful commentary, engaging discussions, and undeniable charisma that captivates audiences. His unique perspective and playful banter have made him an integral part of the program, helping it maintain its position as a leading sports show.
Shaq's Comedy Tour
It's no secret that Shaq possesses a fantastic sense of humor. He has taken his comedic talents on the road, entertaining audiences with his stand-up comedy tour. Combining humor, storytelling, and his larger-than-life personality, Shaq's comedy shows leave audiences in stitches. From witty anecdotes to hilarious impersonations, Shaq proves that he is more than just a basketball legend; he is an all-around entertainer.
DJ and Music Career
Music has always been a significant part of Shaq's life, and he has embraced his passion for beats and melodies by venturing into the world of DJing. Under the stage name "DJ Diesel," Shaq has performed at numerous events and festivals, delivering energetic and electrifying sets that get the crowd moving. His musical talents have allowed him to connect with fans in a different way and demonstrate his versatility as an entertainer.
4. Sports Franchises
Sacramento Kings
Shaq's love for basketball doesn't stop at his playing career. He has also invested in sports franchises, including a minority ownership stake in the Sacramento Kings. By becoming a part of the NBA ownership group, Shaq not only continues to contribute to the sport he loves but also supports the growth and success of the team while fostering diversity and representation within the league.
Shaquille O'Neal's Las Vegas Aces
In 2021, Shaq became the majority owner of the Las Vegas Aces, a professional women's basketball team in the WNBA. By taking on this ownership role, Shaq demonstrates his commitment to female athletes and furthering the growth of women's sports. With his passion for the game and his desire to create opportunities, Shaq's ownership of the Las Vegas Aces is a significant step towards achieving equality and recognition for women in sports.
Tru School Sports
To empower young athletes and provide them with the necessary resources to succeed, Shaq founded Tru School Sports. This organization aims to mentor and develop youth in sports, fostering their skills both on and off the court. Through sports camps, mentorship programs, and community initiatives, Tru School Sports equips young athletes with the tools they need to thrive in their athletic pursuits and in life.
5. Technology
Ring
Recognizing the potential of home security and smart technology, Shaq joined forces with Ring, a company that specializes in innovative security solutions. As a spokesperson and ambassador, Shaq helps promote Ring's advanced doorbell cameras, security systems, and other cutting-edge products that enhance home security. His involvement with Ring reflects his commitment to keeping communities safe and secure.
VitaminWater
Shaq's business ventures also extend to the beverage industry, as he became an early investor in VitaminWater. His partnership with the popular drink brand showcased his entrepreneurial spirit and his ability to spot promising opportunities. Following the success of the brand, VitaminWater's acquisition by The Coca-Cola Company further solidified Shaq's shrewd business acumen.
PlayStudios
Staying ahead of the technological curve, Shaq invested in PlayStudios, a gaming company that develops innovative mobile games. Through this partnership, Shaq has found a way to merge his passion for entertainment and technology, creating immersive gaming experiences for millions of players. His involvement with PlayStudios demonstrates his ability to adapt to changing industries and capitalize on emerging trends.
ION Glasses
Always one step ahead in terms of innovation, Shaq has even ventured into the world of wearable technology. He partnered with ION Glasses to design and develop a line of fashionable eyewear that seamlessly integrates technology. From Bluetooth capabilities to voice-command features, Shaq's ION Glasses combine style and functionality, showcasing his ability to blend fashion and technology effortlessly.
6. Fitness and Health
24 Hour Fitness Shaq Signature Clubs
Recognizing the importance of maintaining a healthy and active lifestyle, Shaq has collaborated with 24 Hour Fitness to create Shaq Signature Clubs. These exclusive fitness centers offer state-of-the-art equipment, customized training programs, and exceptional amenities. With Shaq's influence, these clubs inspire individuals to prioritize their well-being and reach their fitness goals.
Nouveau Management
Not only does Shaq prioritize his own health and fitness, but he also helps others do the same. He has partnered with Nouveau Management, a sports agency that focuses on athlete representation, to guide and support young talent. Through this partnership, Shaq shares his vast knowledge and experience, mentoring young athletes and helping them navigate their professional careers.
Zumer Sport
Combining his love for sports and entrepreneurship, Shaq joined forces with Zumer Sport to create a unique line of sports-related merchandise. Zumer Sport specializes in producing high-quality products made from actual sports materials, such as basketball leather or baseball leather. This innovative collaboration allows fans to show their support for their favorite teams and athletes while sporting stylish and functional accessories.
7. Investment and Endorsement Deals
General Electric
Being a prominent figure both on and off the court, Shaq has attracted the attention of major companies seeking alliances with influential individuals. One such partnership is with the multinational conglomerate General Electric (GE). Shaq's collaboration with GE highlights his long-standing commitment to philanthropy and his dedication to making a positive impact on a global scale.
Icy Hot
Known for his physical dominance and power on the basketball court, Shaq has not shied away from endorsing products related to pain relief and muscle recovery. His partnership with Icy Hot, a trusted brand in the field of topical analgesics, showcases his trust in the product's effectiveness. Through this endorsement deal, Shaq encourages individuals to prioritize their well-being and find relief from everyday discomfort.
Reebok
As a legendary basketball player, Shaq has had several fruitful partnerships with athletic brands throughout his career. One of the most notable collaborations was with Reebok, where he famously showcased his own line of signature basketball shoes, known as the "Shaq Attaq." This enduring partnership allowed fans to not only idolize Shaq on the court but also emulate his style and athletic prowess.
Buick
Recognized for his larger-than-life persona, Shaq was an ideal choice for Buick's advertising campaigns. As a brand ambassador, he helped rejuvenate Buick's image and introduced a new demographic to the luxury car brand. His charismatic presence and relatability resonated with consumers, making him a valuable asset in promoting Buick's vehicles and attracting a broader audience.
8. Shaq's Clothing and Merchandise
Shaq Apparel
With his towering physique and fashion-forward style, it's no surprise that Shaq has his own line of clothing. Shaq Apparel offers a wide range of apparel, from casual streetwear to athletic apparel, all designed with Shaq's unique sense of style in mind. Through his clothing line, Shaq enables fans to embrace their own fashion sense and add a touch of his distinct flair to their wardrobes.
Shaquille O'Neal XLG
Understanding the need for inclusive and fashionable clothing options, Shaq launched Shaquille O'Neal XLG, a clothing line dedicated to providing stylish and comfortable apparel for individuals of all sizes. By championing body positivity and offering trendy designs in extended sizes, Shaq ensures that everyone can confidently express their personal style.
Shaq Fu
Not limited to clothing, Shaq's merchandise empire also includes a gaming venture. Inspired by his video game "Shaq Fu: A Legend Reborn," Shaq Fu features a collection of creative and unique merchandise, from apparel to collectibles. This brand extension allows fans to immerse themselves further into the world of Shaq, celebrating his gaming legacy and his larger-than-life persona.
Walmart Merchandise
As a beloved celebrity, Shaq's influence extends to all corners of the retail world, including a partnership with Walmart. Through this collaboration, Shaq has introduced an extensive line of affordable and stylish merchandise, making his brand accessible to fans of all ages. From clothing to home goods, Shaq's Walmart merchandise brings a touch of his charismatic personality to households around the world.
10. Philanthropy and Social Initiatives
Shaquille O'Neal Foundation
Amidst his illustrious career and numerous business ventures, Shaq has consistently demonstrated his commitment to giving back. Through his own foundation, aptly named the Shaquille O'Neal Foundation, he provides resources and support to underserved communities. With a focus on education, children's healthcare, and community engagement, the foundation strives to make a positive and lasting impact on the lives of those in need.
Big Brothers Big Sisters
Recognizing the importance of mentorship and guidance, Shaq has been an avid supporter of Big Brothers Big Sisters. He actively participates in the organization's programs, mentoring and inspiring young individuals to reach their full potential. Shaq's involvement with Big Brothers Big Sisters showcases his dedication to shaping the next generation of leaders and giving back to his community.
Boys and Girls Clubs of America
With a deep understanding of the transformative power of sports and extracurricular activities, Shaq has partnered with the Boys and Girls Clubs of America. Through this collaboration, he provides resources and support to enhance the programs offered by the organization. By investing in the development of children and adolescents, Shaq contributes to the growth of well-rounded individuals who can positively contribute to society.
We Are The Future
In collaboration with prominent artists and musicians, Shaq founded the We Are The Future initiative. This philanthropic endeavor aims to provide aid and support to children in need around the world. Through education, healthcare, and various social programs, We Are The Future strives to create a brighter future for the next generation, ensuring that every child has the opportunity to thrive and succeed.
In conclusion, Shaquille O'Neal's business ventures span across a diverse array of industries, showcasing his entrepreneurial drive and passion for success. From restaurants to real estate, media to technology, sports to fashion, and philanthropy to entertainment, Shaq has made a lasting impact in each sector. His incomparable career and business ventures have solidified him not only as a basketball legend but also as a shrewd entrepreneur and influential figure in the world of business. As Shaq continues to embark on new ventures and inspire others with his tireless work ethic and charismatic personality, it is clear that his business empire will only continue to grow and thrive.