The Rise of NCSU Basketball
Imagine witnessing the incredible rise of NCSU Basketball as it transforms from an underdog to a force to be reckoned with. This captivating journey traces the blood, sweat, and tears shed by the talented players and dedicated coaching staff. From nail-biting victories to heart-wrenching defeats, NCSU Basketball navigates through the competitive world of college hoops, constantly pushing boundaries and challenging expectations. Join us on this exhilarating ride through the evolution of NCSU Basketball, a story that will surely leave you in awe.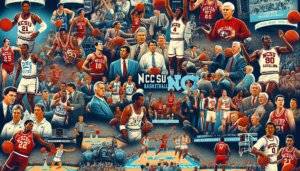 History of NCSU Basketball
Early Years
NCSU basketball has a rich history that dates back to its early years. The program was established in 1911, and in its early days, it saw modest success. However, it wasn't until the 1940s that NCSU basketball started to gain prominence.
Emergence as a Competitive Team
In the 1940s, NCSU basketball emerged as a competitive team under the guidance of coach Everett Case. Case brought a new level of energy and enthusiasm to the program and implemented a fast-paced style of play that excited fans and brought success to the team. His innovative strategies and emphasis on recruitment helped establish NCSU as a force to be reckoned with.
Championship Success
The 1970s marked a golden era for NCSU basketball, with the team achieving championship success. Led by legendary coach Norm Sloan, the Wolfpack won their first NCAA National Championship in 1974. This victory helped catapult NCSU basketball into the national spotlight and cemented its status as a top program.
Post-Championship Period
Following the championship success, NCSU basketball faced some challenging years. However, the program rebounded under the leadership of Jim Valvano. Valvano's charismatic personality and innovative coaching style revived the team and led to memorable moments, including the memorable 1983 NCAA National Championship win.
Legendary Coaches
Everett Case
Everett Case is widely regarded as the father of modern NCSU basketball. He transformed the program into a powerhouse during his tenure from 1946 to 1964. Case's emphasis on recruiting top talent, his innovative coaching strategies, and his ability to inspire his players made him a beloved figure among NCSU fans.
Norm Sloan
Norm Sloan played a pivotal role in NCSU basketball's championship success. He guided the Wolfpack to their first NCAA National Championship in 1974, a historic feat that put NCSU on the map. Sloan's strategic approach and ability to develop talent helped solidify NCSU's position as a basketball powerhouse.
Jim Valvano
Jim Valvano will always be remembered for his iconic run to the 1983 NCAA National Championship. Valvano's "Survive and Advance" mantra became a rallying cry for NCSU fans and showcased his ability to lead under pressure. Valvano's legacy extends beyond just basketball, as his charismatic personality and charitable efforts continue to inspire.
Current Coach
The current coach of NCSU basketball, Kevin Keatts, has built upon the strong foundation laid by his predecessors. Keatts has brought a renewed sense of energy and enthusiasm to the program, focusing on player development and creating a strong team culture. Under Keatts' leadership, NCSU basketball continues to be a force to be reckoned with.
Memorable Players
David Thompson
David Thompson is widely regarded as one of the greatest basketball players in NCSU history. Known for his incredible athleticism and scoring ability, Thompson led the Wolfpack to back-to-back NCAA Final Four appearances in 1972 and 1973. His impact on the program can still be felt today, and he remains a beloved figure among NCSU fans.
Tommy Burleson
Tommy Burleson was a dominant force in the paint during his time at NCSU. Standing at 7'2", Burleson's size and skill made him a formidable presence on both ends of the court. He played a crucial role in NCSU's championship run in 1974 and is remembered as one of the program's all-time great centers.
Chris Corchiani
Chris Corchiani was known for his exceptional passing skills and court vision. He holds the NCAA record for career assists, a testament to his ability to create scoring opportunities for his teammates. Corchiani's leadership and playmaking abilities played a key role in NCSU's success in the late 1980s and early 1990s.
Julius Hodge
Julius Hodge's versatility and scoring ability made him a standout player during his time at NCSU. Hodge was a three-time All-ACC selection and led the Wolfpack to multiple NCAA Tournament appearances. His impact on the court and leadership qualities endeared him to NCSU fans and solidified his place in program history.
Historic Rivalries
Duke University
The rivalry between NCSU and Duke University is one of the most storied in college basketball. The intensity and competitiveness of these matchups have produced countless memorable moments over the years. Both teams have had their share of victories, and the rivalry continues to captivate fans and generate excitement.
University of North Carolina
The rivalry between NCSU and the University of North Carolina is another heated and historic matchup. Known as the "Battle of the Blues," these games are often highly anticipated and fiercely contested. The proximity of the two schools and the deep-rooted history between them adds another layer of intensity to this rivalry.
Wake Forest University
While not as widely recognized as the rivalry with Duke or North Carolina, the games between NCSU and Wake Forest University are nonetheless important. These matchups often fly under the radar, but the competition on the court is just as fierce. The rivalry adds another level of excitement to the basketball landscape in North Carolina.
Accomplishments
Conference Championships
NCSU basketball has achieved numerous conference championships over the years. These championships are a reflection of the program's consistent success and its ability to compete at the highest level.
NCAA Tournament Appearances
NCSU has made numerous appearances in the NCAA Tournament, showcasing its ability to consistently qualify for college basketball's biggest stage. These appearances have allowed the program to showcase its talent and compete against the best teams in the country.
Final Four Appearances
NCSU basketball has had several Final Four appearances, a remarkable achievement that highlights the program's ability to reach the highest levels of competition. These moments have provided unforgettable memories for NCSU fans and have helped solidify the program's status as a perennial contender.
National Championships
The pinnacle of NCSU basketball's accomplishments is its national championships. The program has experienced the euphoria of cutting down the nets twice, in 1974 and 1983. These victories will forever be etched in the program's history and serve as a reminder of the team's triumph against the odds.
Cultural Impact
Community Engagement
NCSU basketball has long been a source of community pride and engagement. The team's success on the court has brought the community together, fostering a sense of spirit and camaraderie. Beyond the games, NCSU basketball players and staff have been actively involved in community initiatives, making a positive impact off the court as well.
Fanbase and Tradition
NCSU basketball boasts a passionate and dedicated fanbase that supports the team through thick and thin. The Wolfpack faithful fill arenas, show unwavering support for their team, and contribute to the vibrant game-day atmosphere. The program's traditions, such as the famous "Red Terrors" student section, add to the unique and exciting experience of attending an NCSU basketball game.
NCSU Basketball in Pop Culture
NCSU basketball has also made its mark in popular culture. The team's success and memorable moments have been chronicled in books, films, and documentaries, ensuring that its legacy lives on beyond the court. NCSU basketball's impact can be felt not only within the realm of college basketball but also in the broader cultural landscape.
State-of-the-Art Facilities
PNC Arena
PNC Arena is the home court for NCSU basketball and serves as a state-of-the-art facility for the team's games. The arena provides a world-class environment for players and fans alike, offering modern amenities and cutting-edge technology.
Reynolds Coliseum
Reynolds Coliseum holds a special place in NCSU basketball history. It served as the team's home court from 1949 to 1999 and witnessed many historic moments. While no longer the primary home for NCSU basketball, Reynolds Coliseum remains an important part of the program's heritage and is still utilized for certain games and events.
Dail Basketball Center
Dail Basketball Center is the practice facility for NCSU basketball. Equipped with state-of-the-art training facilities and resources, it provides the team with everything they need to prepare for games and develop their skills. The center embodies NCSU's commitment to providing its athletes with the best possible resources to succeed.
Recruiting Success
Top High School Recruits
NCSU basketball has been successful in recruiting top high school talent over the years. The program's reputation, strong coaching staff, and track record of success have attracted elite prospects who believe in the vision and potential of NCSU basketball.
NBA Draft Picks
NCSU basketball has produced numerous NBA draft picks, showcasing the program's ability to develop players and prepare them for the next level. These draft picks are a testament to the talent and potential that NCSU basketball cultivates within its roster.
Future Outlook
Recent Success
NCSU basketball has experienced recent success under the leadership of Coach Kevin Keatts. The team has had strong conference showings and secured NCAA Tournament berths, showcasing its ability to compete at a high level. This recent success bodes well for the future of NCSU basketball.
Building a Championship Contender
The goal for NCSU basketball is to build a championship contender. With a strong coaching staff, state-of-the-art facilities, and a track record of success, the program is well-positioned to attract top talent and compete for championships in the future.
Continued Growth and Legacy
NCSU basketball's impact will continue to grow and leave a lasting legacy. The program's commitment to excellence, community engagement, and innovation ensures that it will remain a prominent force in college basketball and continue to make an impact on the sport.
Influence on College Basketball
Style of Play
NCSU basketball has had a significant influence on the style of play in college basketball. From Everett Case's fast-paced approach to Jim Valvano's strategy of survival and aggression, NCSU has left its mark on the game. The program's emphasis on fast, exciting basketball has inspired other teams to adopt similar styles.
Innovations and Strategies
NCSU basketball has also been at the forefront of innovation and strategy in the game. Coaches like Everett Case and Jim Valvano implemented new techniques and approaches that revolutionized the way basketball is played. These innovations have had a lasting impact on the sport and continue to shape the way it is played today.
In conclusion, NCSU basketball has a rich history and a bright future. From its early years to its championship success and influential coaches, the program has left an indelible mark on the college basketball landscape. With its passionate fanbase, state-of-the-art facilities, and commitment to excellence, NCSU basketball will continue to make an impact on the sport for years to come.