The Legendary Career of Tim Duncan
Discover the incredible career of Tim Duncan, one of the greatest basketball players of all time. From his humble beginnings to his five NBA championships, Duncan's unwavering dedication and versatility make him a true basketball icon.
Throughout his illustrious career, Tim Duncan has solidified his status as one of the greatest basketball players of all time. With his unwavering dedication, exceptional leadership, and unmatched versatility, Duncan has left an indelible mark on the world of basketball. From his days as a star player at Wake Forest University to his remarkable tenure with the San Antonio Spurs, Duncan's achievements and accolades are a testament to his unparalleled skills and determination. Join us as we celebrate the legendary career of a true basketball icon.
Early Life
Family Background
Tim Duncan was born on April 25, 1976, in Christiansted, a small town in the U.S. Virgin Islands. His parents, William and Ione Duncan, instilled in him a strong work ethic and emphasized the importance of education. Although his parents divorced when he was young, they continued to support him and his two sisters throughout his life.
Childhood in the Virgin Islands
Growing up in the Virgin Islands provided Duncan with a unique upbringing. He spent much of his time playing outdoors, enjoying the beautiful scenery and warm weather. As a child, he developed a passion for swimming and dreamed of representing his country in the Olympics one day. Little did he know that basketball, not swimming, would become his true calling.
Sports Involvement
Although Duncan began swimming at a young age, it was his introduction to basketball that truly captured his heart. He took up the sport in high school, playing for the St. Dunstan's Episcopal High School team. The young athlete quickly made a name for himself with his natural talent and exceptional skills on the court. His remarkable abilities did not go unnoticed by college recruiters, who saw his potential for greatness.
College Career
Recruitment Journey
After years of honing his skills in the Virgin Islands, Duncan caught the attention of several college basketball programs in the United States. Coaches from prestigious universities across the country were eager to recruit the talented young power forward. Despite receiving numerous offers, Duncan decided to join the Wake Forest University Demon Deacons, where he believed he could excel both academically and athletically.
Highlights at Wake Forest University
During his college career at Wake Forest, Duncan quickly became a force to be reckoned with. His combination of athleticism, intelligence, and dedication to the game propelled him to the top of his class. Duncan's exceptional skills on both ends of the court, particularly his shot-blocking ability and rebounding prowess, helped lead the Demon Deacons to numerous victories. His impact on the team was undeniable, and he left an indelible mark on the university's basketball program.
Achievements and Honors
Duncan's outstanding performance at Wake Forest did not go unnoticed by basketball enthusiasts and experts. He earned numerous accolades during his college career, including multiple All-American honors and the Naismith College Player of the Year award. These achievements solidified his status as one of the greatest college basketball players of his time.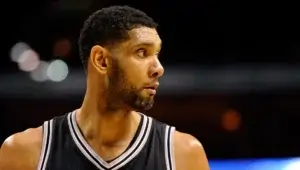 NBA Draft and Rookie Season
Decision to Enter the NBA Draft
After an immensely successful college career, Duncan faced a momentous decision - whether to enter the NBA Draft or continue his education. Ultimately, he chose to forgo his final year of college eligibility and declared himself eligible for the draft. It was a decision that would change the trajectory of his life forever.
Drafted by the San Antonio Spurs
In the 1997 NBA Draft, Duncan was selected as the first overall pick by the San Antonio Spurs. The franchise undoubtedly saw his potential and recognized that he could become the cornerstone of their team. This decision would prove to be a crucial turning point for both Duncan and the Spurs, setting the stage for a dynasty that would dominate the NBA for years to come.
Impactful Debut Season
Duncan wasted no time making his mark in the NBA. In his rookie season, he showcased his versatile skill set, consistently delivering impressive performances on the court. His ability to score, rebound, and defend at an elite level helped the Spurs become an immediate contender. Duncan's impact on the team was evident, and he was awarded the NBA Rookie of the Year in recognition of his incredible contributions.
Playing Style and Skills
Fundamental and Disciplined Approach
Duncan's playing style was characterized by his fundamental skills and disciplined approach to the game. He possessed an exceptional basketball IQ and a deep understanding of the nuances of the sport. Whether it was his impeccable footwork in the post, his consistent mid-range jump shot, or his ability to make smart decisions on both ends of the court, Duncan's mastery of the fundamentals set him apart from his peers.
Offensive Capabilities
Offensively, Duncan was a force to be reckoned with. He had a vast array of post moves that allowed him to score with ease against even the toughest defenders. His ability to finish at the rim, along with his mid-range shooting touch, made him virtually unstoppable. Duncan's offensive prowess was further enhanced by his exceptional passing skills, as he frequently found open teammates for easy baskets.
Defensive Prowess
Duncan's impact extended beyond the offensive end of the court. His defensive abilities were equally impressive and often overlooked. As a shot-blocker and rim protector, he altered countless opponents' shots and made it difficult for them to score in the paint. Duncan's intelligence and strong defensive instincts allowed him to excel in team defense, anchoring the Spurs' solid defensive system.
Tim Duncan and Gregg Popovich
Longstanding Coach-Player Relationship
One of the defining aspects of Duncan's career was his remarkable relationship with Coach Gregg Popovich. The duo formed a bond that extended far beyond the basketball court. Their partnership was built on mutual trust, respect, and a shared vision for success. Popovich's guidance and Duncan's unwavering commitment to the team's success laid the foundation for the Spurs' dynasty.
Contributions to the Spurs' Success
Together, Duncan and Popovich brought unparalleled success to the San Antonio Spurs. They led the team to five NBA championships, establishing a culture of excellence and accountability within the organization. Duncan's selflessness and willingness to sacrifice individual accolades for the greater good of the team set the tone for the entire roster. His leadership and commitment to winning inspired his teammates to elevate their games and strive for greatness.
Duncan and Popovich shared many values that allowed them to work together seamlessly. Both were known for their no-nonsense approach, emphasizing hard work, discipline, and attention to detail. Their leadership extended beyond the basketball court, as they encouraged their players to be active members of the community and approach life with humility and compassion.
Achievements and Records
NBA Championships
Duncan's impact on the game can be measured by his impressive collection of NBA championships. He won five titles with the San Antonio Spurs, each one a testament to his leadership, skill, and unwavering dedication to the team's success. Duncan's championships solidified his status as one of the most accomplished players in NBA history.
Individual Accolades
In addition to his championships, Duncan amassed an impressive list of individual accolades throughout his career. He was a 15-time NBA All-Star, a two-time NBA MVP, and a three-time NBA Finals MVP. These honors recognized his skills, consistency, and contributions to the Spurs' success.
Statistical Milestones
Duncan's statistical achievements stand as a testament to his longevity and sustained excellence. He ranks among the NBA's all-time leaders in several statistical categories, including points, rebounds, blocks, and double-doubles. Duncan's remarkable consistency allowed him to compile these impressive numbers, solidifying his legacy as one of the greatest players to ever step foot on the basketball court.
International Career
Representing the United States
Duncan's excellence extended beyond the borders of the United States. He proudly represented his country multiple times, donning the USA basketball jersey in international competitions. His impact on the national team was significant, as he played a crucial role in leading the United States to numerous victories and gold medals.
Success in International Competitions
Duncan's international career was marked by success and dominance. He played a pivotal role in helping the United States reclaim its basketball supremacy on the global stage. Duncan's exceptional skills and leadership were instrumental in securing gold medals in various tournaments, including the FIBA Americas Championship and the Olympic Games.
Olympic Experiences
The pinnacle of Duncan's international career came in the form of his Olympic experiences. He represented the United States in the 2004 and 2008 Olympic Games, winning bronze and gold medals, respectively. His performances on the international stage symbolized his commitment to representing his country with pride and excellence.
Off the Court Contributions
Philanthropy and Community Involvement
Throughout his career, Duncan remained committed to making a positive impact off the court. He engaged in philanthropic endeavors, using his platform to give back to the community. Duncan established the Tim Duncan Foundation, which aimed to promote health and education initiatives for children and families in need. His charitable efforts continue to make a meaningful difference in the lives of many.
Role as a Mentor and Teammate
Duncan's impact went beyond the hardwood. He was highly regarded as a mentor and teammate, known for his professionalism, integrity, and humility. Younger players, both on the Spurs and across the league, admired his work ethic and sought guidance from him. His leadership and willingness to impart wisdom played a significant role in shaping the careers of many aspiring basketball players.
Contributions to the Game of Basketball
Beyond his individual accomplishments, Duncan's contributions to the game of basketball are immeasurable. His fundamentally sound playing style and disciplined approach have left a lasting impact on generations of players. Duncan's commitment to excellence and his ability to embody the spirit of the game serve as a reminder of the values and principles that make basketball such a beloved sport.
Legacy and Retirement
Impact on the Game and Future Players
Duncan's impact on the game extends far beyond his playing days. He paved the way for future players, demonstrating that success can be achieved through hard work, dedication, and a commitment to team success. His legacy continues to inspire young athletes to strive for greatness both on and off the court, leaving an indelible mark on the sport of basketball.
Final Seasons and Farewell
Duncan's final seasons in the NBA were marked by his determination to compete at the highest level despite his advancing age. Although he experienced injury setbacks, he continued to contribute to the Spurs' success and lead by example. In 2016, after 19 incredible seasons, Duncan announced his retirement, leaving fans, teammates, and opponents in awe of the legacy he had built.
Transition to Life After Basketball
Following his retirement, Duncan has focused on spending time with his family and pursuing his personal interests. He has largely remained out of the spotlight, choosing to live a quiet life away from the media glare. Duncan's transition to life after basketball exemplifies his humble and reserved nature, further solidifying the respect and admiration he has garnered throughout his career.
Tim Duncan's Personal Life
Marriage and Family
Duncan has maintained a private personal life, but it is known that he married Amy Duncan in 2001. The couple has two children together, a daughter named Sydney and a son named Draven. Duncan has always prioritized his family, often speaking about the love and support they provided throughout his career.
Hobbies and Interests
Off the court, Duncan enjoys various hobbies and interests. He has a passion for cars and has been known to collect and customize vehicles. Additionally, he is an avid fan of fantasy novels and video games, often immersing himself in these imaginative worlds during his free time.
Quiet and Reserved Personality
Duncan's personality can be described as quiet and reserved. He has never sought the spotlight, preferring to let his actions on the court speak for themselves. Despite his reserved nature, Duncan's impact on and off the court is undeniable, making him a beloved figure among fans, teammates, and opponents alike.
In conclusion, Tim Duncan's legendary career is a testament to his exceptional skills, unwavering work ethic, and commitment to team success. From his humble beginnings in the Virgin Islands to his ascendance to NBA stardom with the San Antonio Spurs, Duncan's impact on the game of basketball is immeasurable. His fundamental approach, leadership qualities, and philanthropic endeavors have established him as one of the greatest players and role models of his generation. As he begins the next chapter of his life, Duncan's legacy continues to inspire and shape the future of basketball.