Kevin Durant: A Basketball Superstar's Journey
Join the exciting and inspiring journey of basketball superstar, Kevin Durant. From his humble beginnings to his rise as one of the most formidable players in the NBA, this article explores Durant's path to success. From his days as a lanky teenager with a dream, to his triumphant championships and record-breaking achievements, you'll be captivated by the determination and talent that has made Kevin Durant the ultimate basketball icon. So grab a basketball and get ready to be inspired by the incredible story of Kevin Durant: A Basketball Superstar's Journey.
Early Life
Birth and Family Background
Kevin Durant was born on September 29, 1988, in Washington, D.C. He grew up in a close-knit family, with his father Wayne Pratt and his mother Wanda Durant. Durant's parents divorced when he was a child, but they remained actively involved in his life, providing guidance and support. His grandmother, Barbara Davis, also played an important role in his upbringing, instilling in him values of hard work and perseverance.
Introduction to Basketball
Basketball has been a significant part of Kevin Durant's life from an early age. He discovered his love for the sport when he joined a local youth basketball league at the age of eight. Durant's tall and lanky frame gave him a natural advantage on the court, and his skills quickly caught the attention of coaches and scouts. He began to develop a deep passion for the game, spending countless hours practicing and honing his skills.
High School Career
Durant attended the National Christian Academy for high school, where he made an immediate impact on the basketball team. In his first season, he averaged an impressive 18 points per game, showcasing his exceptional scoring ability. Durant's stellar performance on the court drew the attention of college recruiters from across the nation. With numerous scholarship offers on the table, Durant had a decision to make that would shape his basketball career.
College Years
Recruitment Process
Durant's extraordinary talent did not go unnoticed by college basketball programs. As one of the most highly sought-after recruits in the country, Durant received offers from renowned universities such as the University of North Carolina, the University of Connecticut, and the University of Texas. After careful consideration, Durant made the decision to attend the University of Texas at Austin, where he believed he would have the best opportunity to grow as a player and continue his basketball journey.
Freshman Season at Texas
Durant's freshman season at the University of Texas was nothing short of remarkable. He made an immediate impact on the team, leading them in scoring and rebounding. Durant's versatility and scoring ability were on full display, averaging an incredible 25.8 points and 11.1 rebounds per game. Not only did he win numerous accolades, including the Naismith College Player of the Year award, but he also guided the Longhorns to an impressive 25-10 record, solidifying his status as a future NBA star.
Sophomore Season and NBA Draft
Following his sensational freshman year, Durant faced a difficult decision: to stay in college for another season or declare for the NBA Draft. Ultimately, Durant opted to turn pro, entering the 2007 NBA Draft. His decision was met with high anticipation and excitement, as fans and analysts recognized his immense potential. The Portland Trail Blazers selected Durant with the second overall pick but soon traded him to the Seattle SuperSonics, who later became the Oklahoma City Thunder.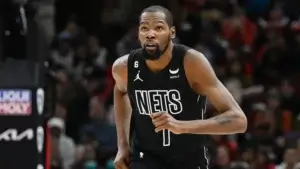 NBA Career
Drafted by the Seattle SuperSonics/Oklahoma City Thunder
As the newest member of the Seattle SuperSonics, Durant had high expectations to fulfill. He quickly became a central figure in the team's offensive schemes, showcasing his scoring prowess and offensive versatility. Despite the team's relocation to Oklahoma City and its transition to become the Thunder, Durant's impact on the court remained constant, gaining recognition as one of the league's most promising young talents.
Rookie Season and Rookie of the Year Award
Durant's rookie season was a testament to his extraordinary talent and work ethic. He averaged an impressive 20.3 points per game, earning him the Rookie of the Year award. Durant's scoring ability was on full display as he consistently led the Thunder in points. His remarkable rookie campaign served as a glimpse into the superstar he would soon become.
Development and First All-Star Selection
As Durant matured as a player, so did his impact on the court. He continued to refine his offensive skills, showcasing an unstoppable scoring ability and improving his defensive contributions. Durant's hard work paid off when he earned his first All-Star selection in 2010. This marked a significant milestone in his career, solidifying his place among the league's elite players.
Move to the Golden State Warriors
Controversial Decision
In 2016, Durant made a controversial decision that sent shockwaves throughout the NBA. He chose to leave the Oklahoma City Thunder and join the Golden State Warriors, a team that had just broken the record for the most wins in a regular season. Critics argued that Durant's decision was driven by a desire to secure an NBA championship rather than by a genuine challenge. However, Durant maintained that his move was motivated by his pursuit of personal growth and the opportunity to play alongside a talented group of players.
Integration into the Team
Durant's integration into the Warriors was seamless. His unselfish play and willingness to adapt to the team's system resulted in a harmonious partnership with his new teammates. As a key piece of the Warriors' lineup, Durant complemented their style of play perfectly, providing another scoring threat and solidifying their dominance on both ends of the court.
NBA Championships
Durant's move to the Warriors proved to be a turning point in his career. He showcased his exceptional skill set and played a pivotal role in helping the team secure back-to-back NBA championships in 2017 and 2018. Durant's ability to perform under pressure and deliver in crucial moments earned him the respect of his peers and solidified his status as one of the greatest players of his generation.
Injuries and Road to Recovery
Lisfranc Injury and Surgery
In March 2019, Durant suffered a devastating Lisfranc injury, which forced him to miss the majority of the 2019-2020 season. The injury required surgery and an extensive rehabilitation process, putting his future in doubt. However, Durant's determination and resilience fueled his road to recovery.
Road to Recovery and Return to the Court
Durant's recovery process was long and arduous, filled with countless hours of rehabilitation and physical therapy. He maintained a positive mindset and focused on regaining his strength and agility. After a year-long absence, Durant made his much-anticipated return to the court in 2020. Despite some initial rust, he quickly found his rhythm and reminded the basketball world of his unparalleled skills.
Adapting to New Team Dynamics
Following his recovery, Durant faced a new challenge as he joined the Brooklyn Nets. While adapting to a new team dynamic can be challenging, Durant seamlessly integrated himself into the Nets' system, forming a formidable partnership with fellow superstar Kyrie Irving. His ability to contribute both on and off the court has been instrumental in the Nets' pursuit of an NBA championship.
Achievements and Accolades
NBA MVP Awards
Durant's incredible performances throughout his career have earned him numerous accolades, including two NBA MVP Awards. These awards serve as a testament to his exceptional skills and his impact on the game.
All-Star Selections
Durant's consistent excellence has led to multiple All-Star selections throughout his career. His ability to perform at an elite level year after year has solidified his status as one of the league's premier players.
Scoring Titles
Durant's scoring ability is unparalleled. He has won four NBA scoring titles, further cementing his legacy as one of the greatest scorers in the history of the game.
Olympic Gold Medals
Durant's success extends beyond the NBA court. He has represented the United States in international competition and played a crucial role in leading Team USA to consecutive Olympic gold medals in 2012 and 2016. His contributions to international basketball have further enhanced his global reputation.
Off-Court Endeavors
Charitable Work
Kevin Durant is not only a remarkable athlete but also a compassionate philanthropist. He has embarked on numerous charitable endeavors, using his platform and resources to make a positive impact in the lives of others. From funding educational programs to supporting underserved communities, Durant's commitment to giving back is exemplary.
Business Ventures
Outside of basketball, Durant has ventured into the business world. He has invested in various companies and projects, showcasing his entrepreneurial spirit and desire to diversify his portfolio. Durant's shrewd business acumen has allowed him to create opportunities beyond the basketball court and secure his financial future.
Personal Life
Family and Relationships
Despite his busy schedule, Durant remains deeply connected to his family. He values his relationships and often credits his loved ones for his success. Durant's strong bond with his mother, Wanda Durant, has been widely publicized, serving as an inspiration to many.
Public Image and Criticisms
As with any high-profile athlete, Durant has faced criticisms and scrutiny throughout his career. He has been the subject of debates and comparisons to other players, but Durant has consistently risen above the noise and proven his worth through his exceptional performances on the court.
Future Goals and Legacy
Continuing Dominance in the NBA
Kevin Durant's goal is to continue dominating the NBA and contributing to his team's success. With his exceptional talent, work ethic, and determination, there is no doubt that Durant will remain a force to be reckoned with for years to come.
Hall of Fame Potential
Durant's impact on the game and his numerous accolades make him a strong candidate for induction into the Naismith Memorial Basketball Hall of Fame. His contributions to the sport have already solidified his place among the all-time greats, and his future accomplishments will only further secure his legacy.
Impact on the Game
Kevin Durant's impact on the game of basketball extends beyond his on-court performances. He has inspired a new generation of players with his skill, versatility, and dedication to the craft. Durant's influence can be seen in the way young players approach the game, emulating his style and striving to reach the heights he has achieved.
In conclusion, Kevin Durant's journey from his early life to his current status as one of the NBA's brightest stars is a testament to his unmatched talent, perseverance, and dedication. From humble beginnings to becoming a multiple-time NBA champion, Durant has proven time and time again that he is a force to be reckoned with on and off the court. As he continues to etch his name into the annals of basketball history, Durant's impact on the game will be remembered for generations to come.