The Rise of Jayson Tatum: A Promising NBA Talent
Discover the extraordinary journey of Jayson Tatum, a rising NBA star. From high school to the NBA, uncover the secrets behind his meteoric rise.
In the world of basketball, there are always rising stars that capture our attention with their incredible skills and promising potential. One such star making waves in the NBA is none other than Jayson Tatum. With his electrifying style of play and undeniable talent, Tatum has quickly become a force to be reckoned with on the court. From his early days at Duke University to his rapid ascension in the professional league, Tatum's rise in the basketball world is nothing short of remarkable. Join us as we explore the journey of this promising NBA talent and uncover the secrets behind his meteoric rise to stardom.
High School Career
Early Development
In his high school career, Jayson Tatum quickly established himself as a rising basketball star. With his natural talent and work ethic, he started making waves in the basketball community at a young age. Tatum's dedication to the sport was evident from the countless hours he spent honing his skills on the court. He showed great promise and potential, catching the attention of scouts and coaches across the nation.
Recognition and Accolades
As Tatum's skills continued to develop, he received increasing recognition for his basketball prowess. He was consistently ranked among the top high school players in the country and earned numerous accolades. Tatum's dominance on the court led to him being named a McDonald's All-American and earning a spot in the prestigious Jordan Brand Classic. These achievements not only showcased his talent but also solidified his status as one of the most promising young players in the game.
College Career
Recruitment and Commitment
After an impressive high school career, Tatum faced a big decision: where to continue his basketball journey in college. He was heavily pursued by top programs across the country, all vying for his commitment. Ultimately, Tatum chose to play for Duke University, a decision that would prove to be a pivotal moment in his career. The Blue Devils' championship pedigree and renowned coaching staff provided the perfect environment for Tatum's development as a player.
Freshman Year at Duke
Tatum's freshman year at Duke was nothing short of exceptional. He wasted no time making an impact, consistently showcasing his scoring ability and versatility on the court. Tatum's smooth shot, combined with his athleticism, made him a difficult player to guard. He quickly became a key contributor for the Blue Devils, helping them reach the NCAA Tournament and making a name for himself on the national stage.
NBA Draft
Declaration for the Draft
After an impressive freshman season at Duke, Tatum made the difficult decision to declare for the NBA Draft. His standout performances and undeniable potential caught the attention of scouts and NBA executives, making him a highly sought-after prospect. Tatum's decision to forego his remaining college eligibility and enter the draft was met with excitement and anticipation, as basketball fans eagerly awaited his next move.
Impressive Draft Combine Performance
At the NBA Draft Combine, Tatum's skills were on full display. He showcased his athleticism, shooting ability, and basketball IQ, further solidifying his status as one of the top prospects in the draft. Tatum's exceptional performance during the combine only heightened the excitement surrounding his draft potential, leading to a surge in his draft stock. NBA teams took notice and began envisioning the impact he could have on their respective franchises.
Rookie Season
Drafted by the Boston Celtics
In the 2017 NBA Draft, Tatum's talent was recognized by the Boston Celtics, who selected him with the third overall pick. The Celtics, a storied franchise with a history of success, saw Tatum as a valuable addition to their roster. The organization had high expectations for the young rookie, hoping that he would contribute immediately and play a vital role in their pursuit of a championship.
Breakout Performances
Tatum wasted no time making an impact in his rookie season. He quickly established himself as a key player for the Celtics, showcasing his scoring ability, defensive prowess, and composure beyond his years. Tatum's breakout performances included impressive scoring outings, clutch shots, and lockdown defense against some of the league's top players. His ability to perform at a high level in pressure situations caught the attention of fans and fellow players alike, earning him respect throughout the league.
Sophomore Season
Continued Growth and Improvement
Building on his strong rookie campaign, Tatum entered his sophomore season with an even greater sense of confidence and determination. He continued to hone his skills, constantly striving to improve and expand his game. Tatum's hard work paid off as he displayed noticeable improvements in his shooting, playmaking, and overall basketball IQ. These advancements solidified his status as one of the league's rising stars and showcased his commitment to continuous growth.
Emerging as a Key Player
Throughout his sophomore season, Tatum demonstrated his ability to shoulder greater responsibilities for the Celtics. He thrived in a leadership role, taking charge on the court and making crucial plays in crunch time. Tatum showcased his versatility by contributing not only as a scorer but also as a playmaker and defender. His emergence as a key player for the Celtics further solidified his place as one of the league's premier talents.
Improvements and Expanding Skillset
Expanded Shooting Range
One area in which Tatum made significant strides was his shooting range. He developed into a consistent threat from beyond the arc, forcing defenders to respect his ability to score from anywhere on the court. Tatum's improved shooting opened up new opportunities for him and his teammates, as opposing defenses had to stretch and guard him closely. This expansion of his shooting range made Tatum an even more dangerous offensive weapon.
Enhanced Playmaking Ability
In addition to his scoring prowess, Tatum also focused on improving his playmaking ability. He became more adept at creating opportunities for his teammates, showcasing his court vision and passing skills. Tatum's enhanced playmaking ability added another dimension to his game, making him a more well-rounded and formidable player on the court. His ability to make smart decisions under pressure and involve his teammates elevated his status as a complete player.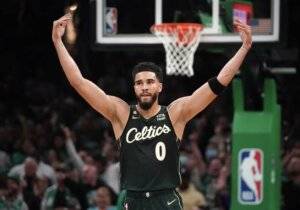 Playoff Performances
Stepping Up in the Postseason
As the Celtics made their way through the playoffs, Tatum consistently stepped up his game. He thrived under the intense pressure of the postseason, showcasing his ability to perform at a high level when it mattered most. Tatum's confidence, skills, and composure shone brightly as he played a crucial role in helping the Celtics advance deep into the playoffs. His ability to rise to the occasion and deliver in big moments further solidified his reputation as a clutch performer.
Crucial Performances in Playoff Series
Tatum's playoff performances were nothing short of extraordinary. He delivered memorable performances against some of the toughest opponents in the league, demonstrating his ability to excel against top-tier competition. Tatum's scoring outbursts, defensive intensity, and leadership on the court played a pivotal role in the Celtics' success during the postseason. His contributions were widely recognized, earning him praise from fans, teammates, and opponents alike.
National Team Representations
FIBA Basketball World Cup
Tatum's skills and reputation extended beyond the NBA, as he was selected to represent the United States in the FIBA Basketball World Cup. He embraced the opportunity to compete on the international stage, showcasing his talent and representing his country with pride. Tatum's contributions were crucial to the team's success in the tournament, further solidifying his status as a rising star in the basketball world.
Olympic Aspirations
With his national team experience, Tatum set his sights on representing the United States in the Olympic Games. The chance to compete against the world's best players and vie for Olympic gold was a dream Tatum aimed to make a reality. His commitment to continuous improvement and drive to achieve excellence made him a strong candidate for future Olympic teams. Tatum's aspirations for Olympic glory served as a testament to his dedication and ambition.
Awards and Recognitions
NBA All-Star Selections
Tatum's outstanding performances both in the regular season and playoffs did not go unnoticed. He earned multiple selections to the NBA All-Star Game, solidifying his place among the league's top players. Tatum's inclusion in the elite group of All-Stars recognized his impact on the game and his ability to consistently perform at an exceptional level. These selections served as a reflection not only of his individual success but also of the respect he garnered from fans, coaches, and fellow players.
Selection to All-NBA Team
In addition to his All-Star selections, Tatum's achievements were further underscored by his inclusion in the All-NBA Team. This recognition highlighted his status as one of the premier players in the league, acknowledging his impact on the game and his remarkable contributions to the Celtics' success. Being selected to the All-NBA Team solidified Tatum's position as a player with immense talent, skill, and potential.
Leadership and Maturity
Taking on Greater Responsibilities
As Tatum's career progressed, he embraced the role of a leader on the Celtics. He embraced the challenge of taking on greater responsibilities and guiding the team to success. Tatum's maturity and ability to handle the pressures of leadership were evident both on and off the court. In crucial moments, he remained composed and made smart decisions that positively influenced his team. Tatum's growth as a leader showcased his character and further endeared him to fans and teammates.
Mentoring Younger Players
Alongside his leadership role, Tatum also took it upon himself to mentor younger players on the team. He recognized the importance of passing on his knowledge and experiences to the next generation, and he embraced the opportunity to help develop their skills and support their growth. Tatum's mentorship not only benefited his teammates but also served as a testament to his selflessness and commitment to the success of the entire organization.
In conclusion, Jayson Tatum's rise to prominence in the basketball world has been nothing short of remarkable. From his early development in high school to his achievements in the NBA, Tatum has consistently demonstrated a level of talent, dedication, and maturity beyond his years. As he continues to improve and expand his skillset, Tatum's future in the NBA looks exceedingly bright. With his leadership, athleticism, and passion for the game, there is no doubt that he will continue to be a force to be reckoned with, leaving a lasting impact on the sport he loves.