Zach LaVine's Heroics Lead Bulls to Victory, Ending Raptors' Playoff Hopes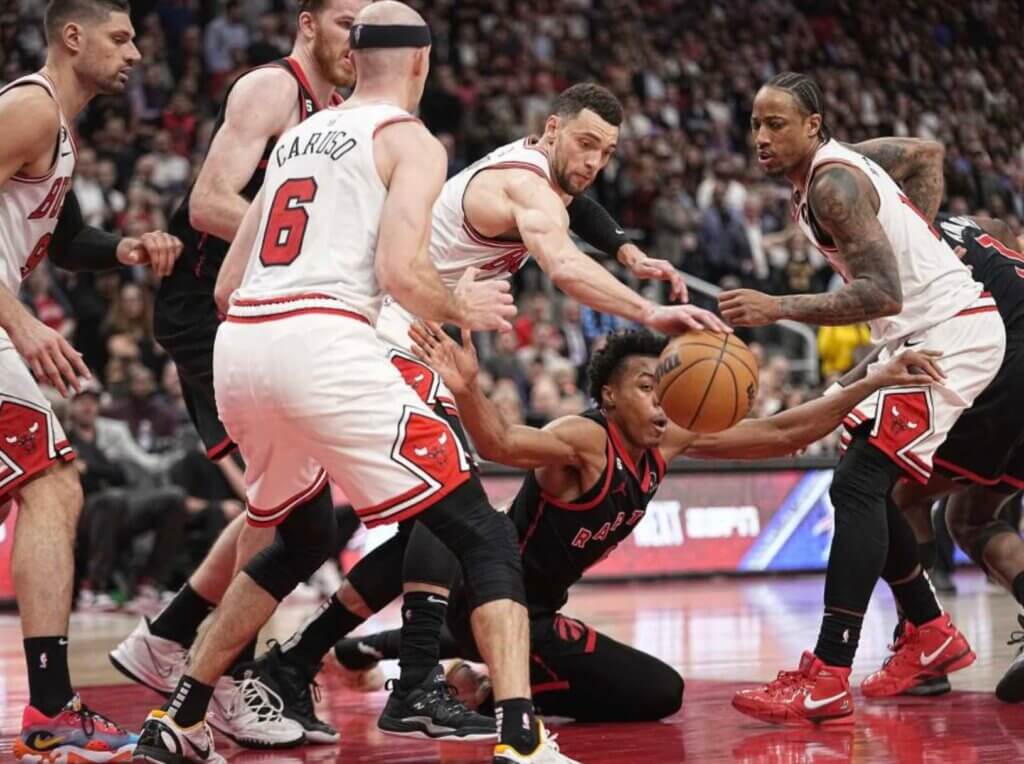 In an electrifying NBA showdown, the Chicago Bulls mounted a remarkable comeback against the Toronto Raptors, thanks to a 30-point explosion by Zach LaVine in the second half. Overcoming a 19-point deficit in the third quarter, the Bulls managed to cool down the Scotiabank Arena with a thrilling 109-105 victory, sending the Raptors packing for the offseason.
The high-stakes matchup between Toronto and Chicago did not disappoint as it offered a new NBA classic with a tantalizing storyline and a nail-biting finish. At halftime, the Raptors had a seemingly unassailable lead of 58-47, as their tantalizing offense and diligent defense kept the Bulls at bay. The Canadian team's lead swelled to a staggering 19 points early in the third quarter, as they continued to dominate on both ends of the floor.
However, the Bulls, led by Zach LaVine, roared back into contention. Stuck at just nine points at halftime, the Chicago guard erupted for 30 points in the second half, including a decisive 17-point performance in the third quarter. LaVine's scoring onslaught helped the Windy City squad shatter the Raptors' momentum and confidence, paving the way for a stunning victory.
Despite valiant efforts from Fred VanVleet and Pascal Siakam, the Raptors crumbled after halftime, ending their 2022/23 season on a bitter note. Meanwhile, the Bulls showcased their survival instincts, which will serve them well in their upcoming play-in finale against Miami. The prize for winning that game? A first-round matchup with the formidable Milwaukee Bucks.
Key Takeaways:
Zach LaVine's phenomenal performance: LaVine scored 30 of his 39 points in the second half, including 17 of his team's 25 points in the pivotal third quarter. The talented guard exploited the Raptors' questionable defensive strategy, which allowed him to attack the basket in one-on-one situations repeatedly. LaVine's heroics helped the Bulls snatch victory from the jaws of defeat.
The Raptors' second-half collapse: Toronto's first half was as convincing as their second half was disappointing. Their offense and defense faltered as the game progressed, culminating in a 37-point fourth quarter that cost them their playoff spot. The end of their season was a fitting conclusion to a frustrating 2022/23 campaign.
The Raptors' free throw woes: Toronto's abysmal 18/36 free throw shooting proved costly in the end. In a game decided by the slimmest of margins, the Raptors will undoubtedly rue their missed opportunities from the charity stripe. Ironically, it was the Bulls who sealed the game at the free throw line.