Zion Williamson: From High School to NBA Stardom
Explore the exhilarating rise of Zion Williamson from his high school beginnings to becoming an NBA sensation. Discover his talents, struggles, and important milestones.
Prepare to embark on an alluring journey through the captivating life of Zion Williamson; a tale that will guide you from his early days in high school basketball to his impressive rise in the NBA. Through this eye-opening narrative, you'll see how this basketball phenom proved himself on the court, earned the respect of peers and fans alike, and rapidly became one of the most exciting players in the league. Zion Williamson: From High School to NBA Stardom strives to inspire, awe and enlighten you about this outstanding player's transformative journey to stardom.
Early Life and High School Career
You see, the story of Zion Williamson is a humble one, beginning in the small town of Salisbury, North Carolina.
Birth and Family Background
He was born on July 6, 2000, to Sharonda Sampson and Lateef Williamson. His mother, Sharonda, was a former high school sprinter, and his parents' athletic backgrounds played a pivotal role in shaping Zion's early interests.
Basketball Beginnings
Since his childhood, he showed a great penchant for athletics, notably basketball. So, it wouldn't be a surprise to learn that by the age of five, he had already set his mind on becoming a professional basketball player.
Dominance at Spartanburg Day School
When he joined Spartanburg Day School, his potential started to shine through. He led the school's basketball team to three consecutive state championships, making a name for himself in the world of high school basketball.
College Recruitment and Duke University
As you can imagine, Zion's journey didn't stop there. His talent and dominance captured attention far and wide, and before long, he had top college programs knocking at his door.
Emerging as a Top Recruit
Zion was one of the most highly regarded prospects in his high school class. His basketball prowess and athleticism made scouts across the nation take notice, simultaneously putting a significant spotlight on the young athlete.
Choosing Duke
Out of his top choices - North Carolina, Kentucky, Clemson, and Duke, he decided to commit to Duke University. Why Duke? It seems he chose it for its rich basketball history, tradition, and top-notch coaching staff.
Impact at Duke
At Duke, Zion proved that he wasn't just hype. He averaged 22.6 points per game, breaking records and stealing the hearts of fans in the process. But his college career wasn't without a bump.
Injury Concerns
During a game against arch-rival North Carolina, he suffered a knee injury. Though he returned before the end of the season, this incident raised preliminary concerns about his durability and how his body can cope with the physical demands of the game.
2019 NBA Draft and Rookie Season
In spite of these concerns, Zion remained firm in his path, and his journey led him to a milestone in his career - the 2019 NBA Draft.
Entering the Draft
After an incredible freshman year at Duke, he declared for the 2019 NBA Draft.
First Overall Selection
With his tantalizing potential and college success, he was the clear favorite to be picked first overall. When the New Orleans Pelicans won the lottery, it was clear where he was headed.
Preseason Hype and Expectations
The hype surrounding Zion was substantial before his NBA debut. The anticipation of his play on the professional level was immense, and everyone was excited to see how he would perform.
NBA Debut and Early Performances
He didn't disappoint. In his debut, he scored 22 points in just 18 minutes. Although his rookie season was cut short by injury, his performances showed glimpses of the explosive talent he possesses.
Playing Style and Physical Attributes
While we've talked about his journey, what sets Zion apart is his unique blend of qualities on the court.
Unparalleled Athleticism and Power
Zion is known for his imposing athleticism and power. His vertical leap and explosive speed are uncanny for someone of his build.
Scoring Prowess and Versatility
His scoring ability is unmatchable. He has the knack to continuously find ways to get the ball into the basket, coupled with his versatile skill set that allows him to play and guard multiple positions.
Rebounding and Shot-Blocking Ability
Zion's rebounding and shot-blocking capabilities are exceptional. Thanks to his leaping ability and timing, he is a consistent threat on both ends of the court.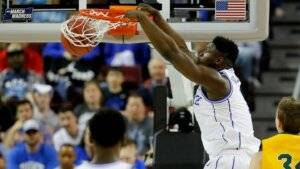 Off-Court Personality and Charitable Endeavors
Outside of his basketball career, Zion has also made his mark with his charming personality and charitable contributions.
Down-to-Earth Nature
Despite his fame, he remains grounded and approachable, often revealing his humble attitude in interviews.
Philanthropic Efforts and Community Involvement
His philanthropic efforts are noteworthy. From donating to relief efforts to helping communities in need, he has shown that he cares about more than just his hoop dreams.
Impact on Pop Culture and Commercial Success
Zion has successfully managed to transcend his popularity beyond the hardwood, making considerable strides in popular culture and business.
Social Media Sensation
He is a sensation on social media, where his electrifying dunks and charming personality captivate millions of fans worldwide.
Endorsement Deals and Business Ventures
His commercial appeal has led him to lucrative endorsement deals and promising business ventures. From shoe deals to investments, he's making his mark in the business world as well.
Comparison to Past and Present NBA Players
You might wonder how he compares to other NBA stars.
Charles Barkley
His unique combination of power and agility draws comparisons to Hall of Famer Charles Barkley.
LeBron James
Others have likened him favorably to LeBron James due to his versatility and potential to be a generational talent.
Blake Griffin
He's also been compared to Blake Griffin, thanks to his impressive dunking ability.
Dwight Howard
His defensive prowess isn't unnoticed either, drawing parallels to Dwight Howard's shot-blocking ability.
Critics and Limitations
Despite his talent and potential, Zion isn't without critics and limitations.
Weight and Body Concerns
Concerns have been raised about his weight and whether his body can withstand the wear and tear of an NBA season.
Shooting Range and Mechanics
His shooting range and mechanics have also been under scrutiny. Critics argue that for him to reach his full potential, he needs to improve in these areas.
Achievements and Accolades
However, these criticisms do not diminish his achievements.
NCAA Honors
During his year at Duke, he won numerous NCAA honors, including the prestigious Wooden Award.
Rookie of the Year Contention
Despite injuries in his rookie season, he was a strong contender for the Rookie of the Year award.
Future Expectations and Legacy
So, what's next for Zion?
Potential for Greatness
With his immense talent, he has the potential for greatness. Only time will tell if he will realize this potential and solidify his place among the game's greats.
Longevity and Injury Prevention
However, discussions about his future can't ignore the matter of injury prevention. Ensuring a long and healthy career will be key in his journey to stardom.
Historical Impact on the Game
Regardless of what comes next, he is certain to leave his unique stamp on basketball history. A player like Zion Williamson doesn't come around often, and his impact on the game will undoubtedly be long-lasting. So whether you're a basketball fan or not, watching his journey unfold is going to be nothing short of exciting.