First Look At The Nike Zoom Freak 4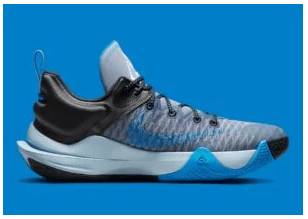 The Greek Freak's got a new signature sneaker, and it's as awesome as he is.
Giannis Antetokounmpo is a freak who makes his own rules.
The Nike Zoom Freak 4 honors Giannis' unparalleled work ethic and unstoppable passion with a shoe that's as hardworking as its namesake. Built for the modern basketball player, the shoe offers enhanced support and durability for high-intensity play. Its multi-directional traction pattern is designed to offer more grip on the court, so you can be as fast and aggressive as you need to be.
Giannis Antetokounmpo has been a fan favorite for years, and Nike has finally unveiled the new "Zoom Freak 4." For now, no release date has been communicated from Nike, but we're all hoping for a Friday the 13th drop.
When it comes to basketball, there's no limit to what you can achieve if you're willing to put in the work. The Nike Zoom Freak 4 represents just that: a commitment to pushing boundaries and being better than you were yesterday—so that tomorrow, you're ready to do it all over again.
We can't wait to see how Giannis wears his new kicks on the court.