Gary Trent Jr.: Embracing a New Role with the Raptors
The Toronto Raptors, a team known for its dynamic shifts and adaptability, are once again making headlines with their strategic decisions. This time, it revolves around Gary Trent Jr., a player who has been a starter for the team for the past two seasons. However, as the preseason unfolds, it seems that Trent Jr. might be taking on a new role: coming off the bench.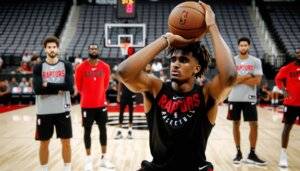 In the recent preseason games, Raptors' coach Darko Rajakovic has been leaning on a lineup that includes Dennis Schroder, O.G. Anunoby, Scottie Barnes, and Pascal Siakam. To round off his starting five, Rajakovic has alternated between Chris Boucher and Jakob Poeltl, leaving out Gary Trent Jr.
Despite being a starter for two seasons in Canada and having a somewhat distant relationship with former coach Nick Nurse, Trent Jr. acknowledges the current situation. Speaking to Sports Net, he said, "For now, this is how it's going. I haven't heard anything about it, but I started the two games on the bench. During practices, I'm with the reserves. It's evident."
This shift in role is not just a change in game dynamics but also comes at a crucial time for Trent Jr., who is in the final year of his contract. "Obviously, we work to be starters and help the team as much as possible," the former Portland player explained. "Again, I don't have control over that. All I can do is work hard, be a good teammate, and support my team."
However, with his offensive skills, Gary Trent Jr. has the potential to become an exceptional sixth man. Coach Rajakovic seems to share this sentiment, stating, "There have been Hall of Famers who came off the bench and were great players. You just have to be ready and professional. That's what I see from Gary right now."
A glance at Trent Jr.'s stats reveals his consistent performance:
2021-22: Averaged 18.3 points with a free throw percentage of 85.3%.
2022-23: Averaged 17.4 points with a free throw percentage of 83.9%.
As the NBA season progresses, Gary Trent Jr.'s transition will be closely watched. Whether he starts or comes off the bench, his dedication, skill, and commitment to the team remain unwavering. The Raptors might just have found a new ace up their sleeve with this strategic move.