Jordan Poole's Explosive Night: 41 Points at Madison Square Garden
The iconic Madison Square Garden has witnessed countless memorable performances over the years. On a recent evening, it was Jordan Poole's turn to etch his name into the annals of basketball history. In a dominant victory for his team (106-131), the former Golden State Warrior not only showcased his exceptional skills but also matched a franchise preseason record held by none other than the legendary Michael Jordan.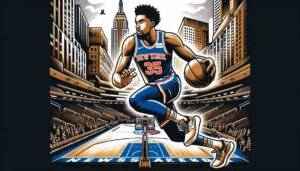 From the get-go, Poole set the tone. Within the opening seconds, he confidently brought the ball up the court and launched a deep three-pointer, a good meter behind the arc, that resonated with a satisfying "splash." This was just a teaser of what was to come from the former Warrior at the Garden, leading his Wizards to a commanding victory over the Knicks.
Poole's offensive onslaught continued with a mix of finishes at the rim and a barrage of successful free throws. His first half was particularly electrifying, punctuated by three-pointers as spectacular as his opening shot. One such moment saw him off-balance, on one foot, and still managing to sink a three despite RJ Barrett's defense. Even though two of his teammates were open, including Deni Advija who showed visible frustration, Poole's confidence was unshakable.
By halftime, the sharpshooter had already accumulated 29 points, leaving the Knicks' defense, which seemed lackluster this preseason, in disarray.
Poole's performance didn't just stop at impressive numbers. In Kyle Kuzma's absence, he continued his scoring spree, surpassing the 40-point mark. His 41 points, achieved with a shooting split of 10/19 from the field, 6/12 from beyond the arc, and an impressive 15/16 from the free-throw line in just 27 minutes, matched a franchise preseason record. This record was previously set by Michael Jordan against the Nets in October 2001. Such a feat has already drawn comparisons to James Harden by the New York press, who now see Poole as a natural contender for the Most Improved Player award.
With Poole's standout performance and Mike Muscala's 20 points off the bench, the Wizards cruised to their third consecutive preseason victory. On the Knicks' side, despite Julius Randle's double-double (20 points and 10 rebounds), the team's overall performance was underwhelming, with many players, including Evan Fournier, struggling to find their rhythm.
In conclusion, Jordan Poole's night at Madison Square Garden was nothing short of spectacular. As the new NBA season unfolds, fans and analysts alike will be keenly watching Poole's journey, anticipating many more such electrifying performances.