Jonathan Kuminga: The Rising Star of the Golden State Warriors
The NBA preseason has always been a platform for players to showcase their skills, make a statement, and set the tone for the upcoming season. This year, one name has been echoing louder than most in the basketball community: Jonathan Kuminga. With scores of 24, 26, and 28 points in consecutive preseason games, Kuminga has not only established himself as a force to be reckoned with but has also emerged as the leading scorer of the NBA preseason, averaging 26.0 points. This ties him with Tyler Herro and places him ahead of notable names like Victor Wembanyama and Desmond Bane.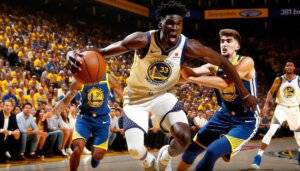 While his scoring prowess is impressive, especially for a player who has an average career score of 9.6 points, what stands out even more is his ability to draw fouls and get to the free-throw line. Averaging nearly 10 free throws per game, Kuminga's recent performance against the Kings saw him attempting 17 free throws, surpassing his previous best of 12. Reflecting on this, Kuminga mentioned, "I was surprised to shoot 17 free throws, but it's something I've been working on. I know I'll be fouled a lot."
Could Kuminga be the X-Factor for the Warriors?
The Golden State Warriors, despite their rich history and star-studded lineup, have been lacking in certain areas. One of these areas is their athleticism and ability to get to the free-throw line. With an average age of nearly 29, the Warriors are the fourth oldest team in the NBA. This is where Kuminga's athletic prowess comes into play. As Coach Steve Kerr rightly pointed out, the Warriors are not the most athletic team and have struggled with free throw attempts. But with Kuminga's ability to drive to the basket and draw fouls, the dynamics might change for the better.
Given the shooting capabilities of players like Stephen Curry, Klay Thompson, and Andrew Wiggins, Kuminga is expected to find ample space to operate inside. If he can capitalize on these opportunities and draw fouls, the Warriors might no longer be the team with the least free throw attempts per game.
Moses Moody, Kuminga's teammate, emphasized the importance of this, stating, "It's crucial because he puts so much pressure on the defense. When he drives in, it's hard not to foul him, especially with his explosiveness. Getting to the free-throw line is as good as scoring."
Building Confidence and Efficiency
While Kuminga's aggression and ability to get to the line are commendable, there's always room for improvement. One area he's keen on enhancing is his free throw shooting percentage. Aiming for a success rate above 75%, Kuminga believes it's not about mechanics but confidence. "For me, it's about trust. I've been more patient and trusted every repetition, every detail of my free throws," he said.
In the past seasons, Kuminga's stats have shown promise:
2021-22: 9.3 points per game with a free throw percentage of 68.4%.
2022-23: 9.9 points per game with a free throw percentage of 65.2%.
As the new NBA season unfolds, all eyes will be on Jonathan Kuminga. His evolution as a player, combined with his determination and skill set, might just be the spark the Golden State Warriors need to reclaim their dominance in the league.