Victor Wembanyama: The Rising Star Validated by NBA Legend Kevin Durant
In the midst of a tumultuous NBA game on November 2, 2023, between the Spurs and the Suns, a new star made his mark in a way that left spectators and seasoned players alike in awe. Victor Wembanyama, a rookie from France, has been making headlines, but his performance on this fateful night has drawn the attention and admiration of none other than Kevin Durant, one of the best offensive players in the history of the NBA.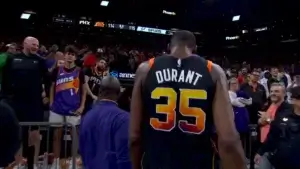 The Night that Stood Still
The game was intense, with both teams battling fiercely. Kevin Durant, known for his unmatched endgame skills, tried valiantly to steer his team towards victory. Yet, the night belonged to someone else – Victor Wembanyama, who managed to outshine even the brightest stars on the court.
Praise from a Legend
After the game, Durant, who has been Wembanyama's idol during his youth, couldn't help but acknowledge the undeniable talent of the young rookie. He shared, "Je ne vois personne comme lui en NBA" (I don't see anyone like him in the NBA). Durant's recognition of Victor's performance is nothing short of a testament to the rookie's capabilities.
A Unique Path to Stardom
Durant noted the similarities between him and Wembanyama - their height, lean build, and perhaps the shared admiration for basketball artistry. But he was quick to point out that Wembanyama is set on a unique trajectory. "Il va créer sa propre voie, vous pouvez essayer de comparer mais il sera différent de tous les autres" (He will create his own path, you can try to compare but he will be different from all others), Durant added.
The Unprecedented Hype
Wembanyama's ability to deliver impressive statistics against such high-caliber players and maintain composure during a tense money-time is indeed remarkable. The hype around his debut season has reached a crescendo and has fans eagerly awaiting his next game. With the Raptors - Spurs game scheduled for a prime-time European slot on Sunday at 21:30, anticipation is running high.
Conclusion: A New Chapter in Basketball Evolution
In the world of NBA news, moments like these – where a rookie earns the validation of a legend – are pivotal. Victor Wembanyama's NBA debut has not only marked the start of a promising career but has also redefined what spectators can expect from new players. As we watch Wembanyama continue to evolve on the court, it is undeniable that his journey is indeed unique and destined for greatness.
In the words of Durant, Wembanyama is not just another player; he's a force to be reckoned with, carving his own path in the history of basketball. Fans of the sport and followers of NBA news are undoubtedly witnessing the start of an exciting new chapter in the Basketball Evolution.