Warriors Stumble as Kings Take Commanding 2-0 Lead in NBA Playoffs Series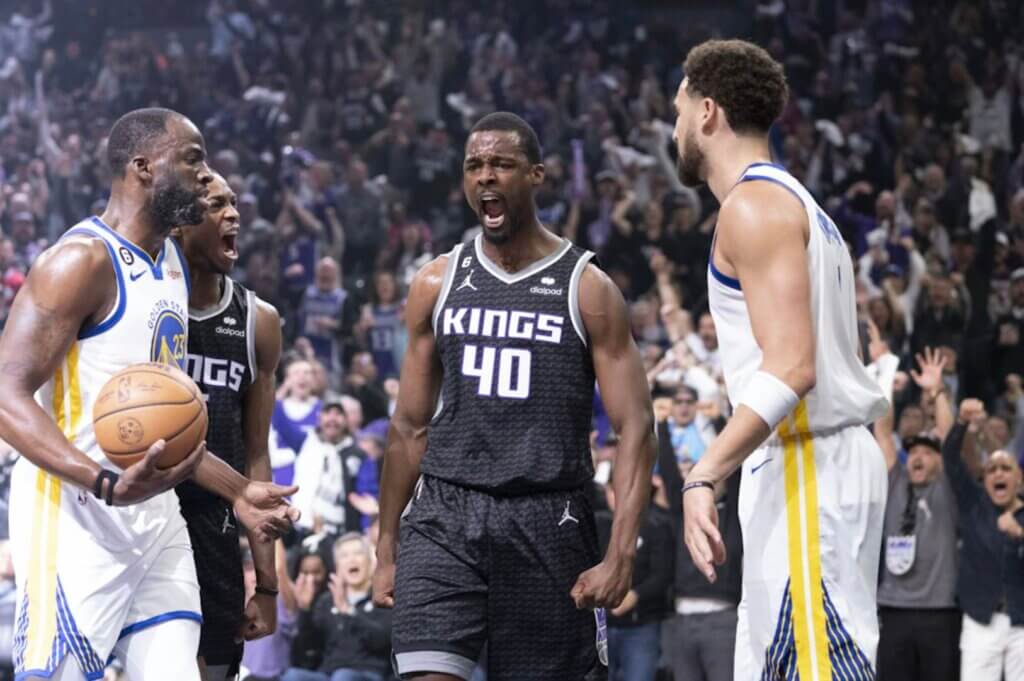 As the echoes of cheering and jeering reverberate within the confines of the Sacramento Kings' arena, the Golden State Warriors find themselves uncharacteristically floundering in a series deficit. The Kings, emboldened by the roaring support of their loyal fanbase, showcased a tour de force in their Game 2 victory, securing a firm 2-0 foothold in the NBA playoffs.
The initial stages of the game depicted an evenly contested affair, both teams engaging in a fierce tug-of-war for early dominance. Alas, the Warriors, a team synonymous with offensive prowess, drew first blood, exploiting their defensive pressure to earn an early lead. Yet, the Sacramento Kings, undeterred by the mounting pressure, answered in kind. A 13-4 run, sparked by the explosive Malik Monk, not only erased the early deficit but thrust the Kings into a slender lead.
Undoubtedly, the turning point of the contest revolved around a pivotal moment in the third quarter. Draymond Green, a bastion of the Warriors' defense, found himself mired in foul trouble. His subsequent ejection for a flagrant foul acted as the catalyst for an unexpected shift in momentum. In a strange twist of fate, the Warriors, galvanized by Green's ejection, mounted a thrilling comeback, orchestrated by the clutch shooting of Gary Payton II.
Yet, the night belonged to the Kings. Clutch performances by De'Aaron Fox and Davion Mitchell in the waning minutes of the game ensured the Warriors' comeback bid was thwarted, etching the final scoreline at a tantalizing 114-106. With this victory, the Kings stride into the looming Game 3 with the daunting specter of a potential sweep looming over the Warriors.
This unforeseen series deficit marks the first for the Stephen Curry-era Warriors since 2007, a sobering reminder that even the mightiest can stumble. Facing the daunting statistic that 92% of teams leading 2-0 advance to the next round, the Warriors must tap into their championship pedigree and concoct a spirited response in the subsequent games.
From the initial tip-off to the final buzzer, the oscillating rhythms of Game 2's narrative, punctuated with moments of exhilaration, disappointment, and resiliency, indeed paint a vibrant tableau of basketball in its purest form. As the saga of this series unfolds, fans and players alike are reminded that within the realm of basketball, uncertainty is the only certainty.